TOP 20 the largest world banks in 2017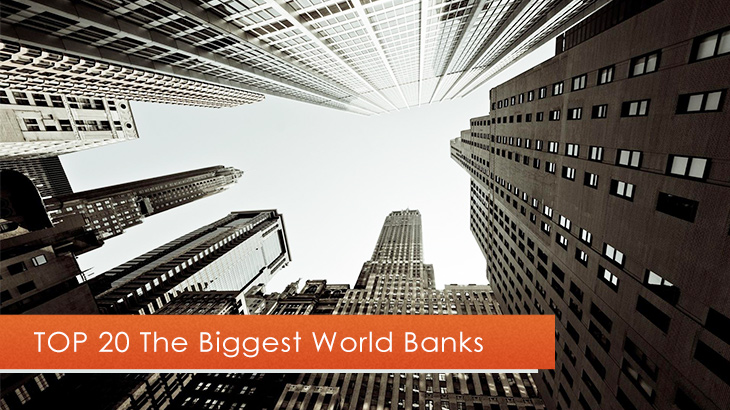 Introducing TOP 20 of the largest world banks on January 8 2018.
The rating is built according to banks' total assets. Read more about this index in the end of article.
Different banks of China takes this rating top for several years in a row. It is quite logical, taking into consideration the annual economy and industrial surplus of the Heavenly Empire.
Moreover, pay attention to China Banks logos. One copies another; I even do not know what is this all about.
Therefore  the first place takes…
No.1 — Industrial and Commercial Bank of China (ICBC)

Country: China
Assets: $3616 billion
Industrial and commercial Bank of China (ICBC) is the largest bank in the world. It is a part of the "BIG FOUR" of fiscal controls of the Heavenly Empire; it controls almost 1/5 part of all banking in China. It has $3616 billion assets according to the latest data, and its market capitalization totals $238 billion.
The Bank was founded in 1984 and now has more than 460 thousand of employees. Its HQ (Head Quarter) is located in Peking. More than 70% of the corporation is the government property.
No.2 — China Construction Bank Corporation

Country: China
Assets: $2939 billion
Second rating and second by "size", Bank of China founded in 1954 and now called "China Construction Bank". According to the latest data, it obtains $2939 billion and its market capitalization totals more than $200 billion.
Originally, CCB was created for government exchanges, and only later, it was redeveloped into the commercial one. The company includes more than 14 thousand departments all around the globe where 372 thousand employees work.
No.3 — Agricultural Bank of China

Country: China
Assets: $2816 billion
ABoC was founded in 1951 by Mao Zedong to help collective farms, peasants and workers. Currently, this bank entrenched inside fiscal and commercial corporations of China and the whole world. HQ is also located in Peking, and it has near 24 thousand representatives in the country and abroad. Total assets of Agricultural Bank of China collects more than $2816 billion and its market capitalization makes $190 billion according to the latest data.
No.4 — Bank of China ltd

Country: China
Assets: $2629 billion
Bank of China is one of the oldest and most reliable in China. It was created in 1912 and still leads inside banking sector. More than 70% of the company belongs to China Government, and it has offices in more than 20 countries abroad.
According the data, its assets collect near $2629 billion and its market capitalization makes $162 billion.
No.5 — HSBC Holdings plc

Country: Great Britain (England)
Assets: $2500 billion
London HSBC is one the largest aggregation units inside the banking sector in Europe and the world, totaling $2,5 trillion in its assets.
Originally, the purpose of its creation was to perform exchanges between Europe and China, and still it stays crucial in such actions. Also it has more than 10 subsidiaries which perform all possible operations inside this sector.
No.6 — JPMorgan Chase

Country: USA
Assets: $2449 billion
JPMorgan Chase is one of the most emerging and authoritative USA aggregations in banking sector. This company was founded in 2000 during merging of several huge banks as a result. JPMorgan Chase HQ is located in New York City, Manhattan. It is one of the largest investment companies in the world.
Now its assets total $2449 billion and its market capitalization makes $225 billion.
No.7 — BNP Paribas

Country: France
Assets: $2400 billion
BNP Paribas was founded in 1999, and now it tops the fiscal, banking and insurance ratings. Currently, the company has representatives all around the globe and HQs in Geneva, Paris and London.
Its assets compound $2400 billion and $73 billion of market capitalization.
No.8 — Mitsubishi UFJ Financial Group

Country: Japan
Assets: $2300 billion
This Japan holding company has $2,3 trillion assets what makes it one of the largest bank in Japan. Developed department network all around the world allows MUFG to perform in 40 different countries.
The company was created in 2005 on the merge of two largest banks of Japan, and its HQ locates in Osaka City.
No.9 — Bank of America (BoA)

Country: USA
Assets: $2149 billion
BoA is the largest bank of USA, which has an extensive range of fiscal services in the whole country and abroad. HQ locates in Charlotte City, North Carolina.
According to the latest data, BoA balance has $2149 billion assets and its market capitalization sustains $163 billion.
No.10 — Crédit Agricole


Country: France
Assets: $1911 billion
French Crédit Agricole bank ends the TOP 10 of the largest world banks list. It has the balance of $1911 billion in assets.
Crédit Agricole is one of the largest companies in France, which successfully controls larger part of the banking sector inside the country.
No.11 — 20
| | | | |
| --- | --- | --- | --- |
| # | Bank | Country | Assets |
| 11 | Deutsche Bank | Germany | $1901 b. |
| 12 | Barclays Plc. | England | $1882 b. |
| 13 | Citigroup | USA | $1829 b. |
| 14 | Wells Fargo | USA | $1720 b. |
| 15 | Japan Post Bank | Japan | $1701 b. |
| 16 | China Development Bank | China | $1613 b. |
| 17 | Mizuho Financial Group | Japan | $1563 b. |
| 18 | Sumitomo Mitsui Financial Group | Japan | $1526 b. |
| 19 | UBS Group AG | Switzerland | $1525 b. |
| 20 | Royal Bank Of Scotland | England | $1517 b. |
*Some data can be inaccurate, in respect of absence or limited access to reports issue during last periods.
As you can see, there is no any banks of Russia in this list. Sberbank of Russian Federation, the largest one, has only 25 trillion rubles in assets. According to the exchange rate, it makes $350 billion. In addition, it is even less in comparison with Royal Bank of Scotland ending this TOP 20 list.
What criteria does build the rating?
Annually, rating agencies, analysts and fiscal companies compound ratings of the most reliable, profitable and successful bank corporations. However, filtration settings are quite specific to find the largest World Bank. That is why ratings are made by different parameters because the same bank can lead by one criteria and be out by another at the same time.
Total assets sum is the total value of all fiscal units regarding company's property, as well as financial capital which consists of own corporation resources, investor assets, interbank credits and assets received from bond issue. Such rating is built according to the total assets sum of a bank, as it was told before.
Market Capitalization is the cumulative value of a company with regard to its all substructures and commercial assets. Corporate market capitalization is calculated in regard with the exchange value of its shares.
Moreover, very important banking gauges are operational and clear profits, total turnover, the number of its departments and employees.