Customizing MT4 Charts: How To Personalize Your MT4 Charts
Despite being old and despite there being many newer alternatives, the Metatrader 4 (MT4) remains one of the most popular trading platforms for forex traders.

Anastasia Chaika Content Manager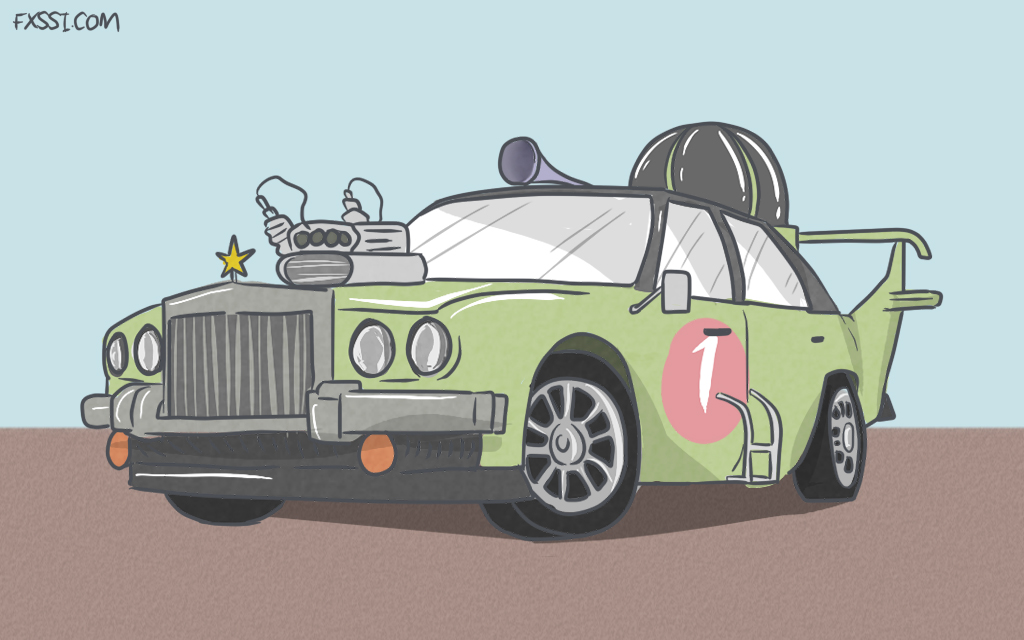 Why this remains so is not a subject for this article. We have an article describing this phenomenal MT4. Feel free to indulge yourself.
But let's face it. The MT4 trading platform gets quite boring. And unlike its modern alternatives with many beautiful user interfaces and customization options, there aren't many customization options for the MT4. Right?
Wrong!
This article will show you some of the best ways to customize your MT4 charts to look friendlier and easier on the eyes. And maybe, this will help you make some more pips!
So, let's get to it.
How To Customize MT4 Charts From Your MT4 Settings
Despite it being old, there are quite several personalization options that come with the MT4. In fact, if you know and use these options, you're guaranteed a new-looking, popping chart.
Some of the customizable options on the MT4 settings include the following:
Colors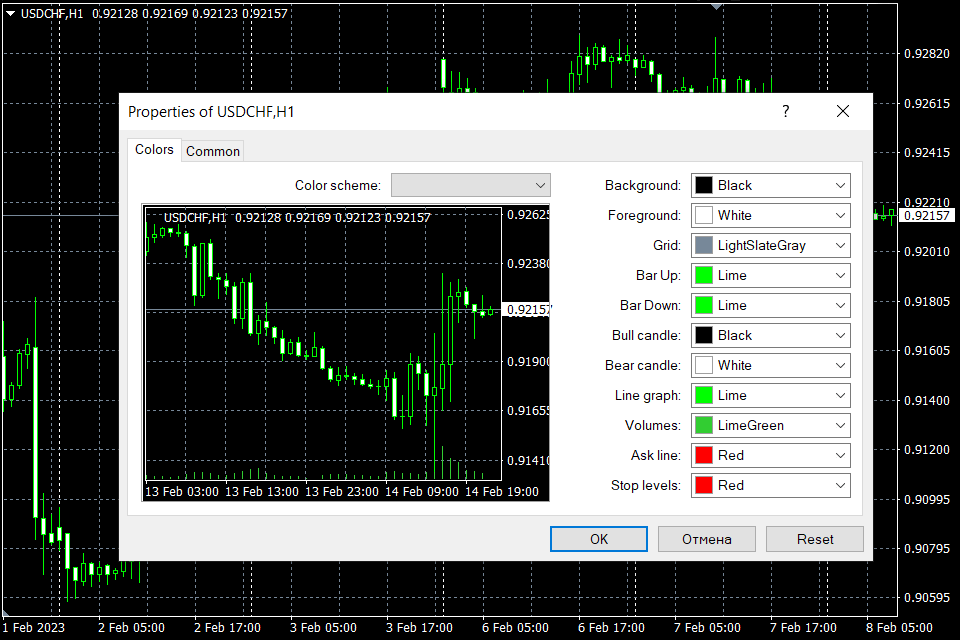 Colors are the best and easiest way to personalize your MT4. Fortunately, the MT4 has a host of options for this.
Apart from the options and tabs on the left and the top of your MT4, you can change the colors of everything else on your chart. You can change the color of your candlesticks, background, objects, or even your indicators.
The easiest way to do this is to right-click on a blank space on your chart. On the Settings menu that pops up, select "Properties." This opens up a host of color customization options. You can also use the F8 key to call the settings window. You can change your background, foreground, grid, bars, candles, lines, volumes, stop levels, and your ask lines there.
If you use objects, you can easily change their colors by punching "Ctrl+B" on your MT4. Locate your object, click on it, and use the edit button on the right side of your dialogue box. You can also locate your objects on the options that pop up when you right-click on your chart.
Candlesticks, Bars, or Lines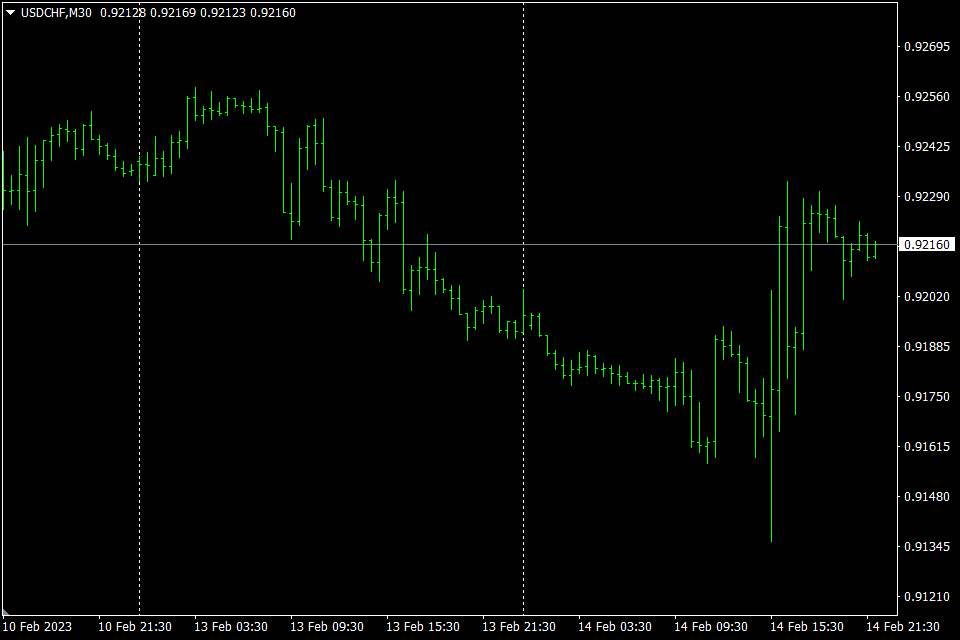 Are you tired of candlesticks? Do you want something for a change but still want all the information the Japanese candlestick offers? Then your best MT4 customization bet is changing your candles to bars.
Also, you can easily switch to a line chart if you want something simple without the sophisticated details of the bars and candles.
Grid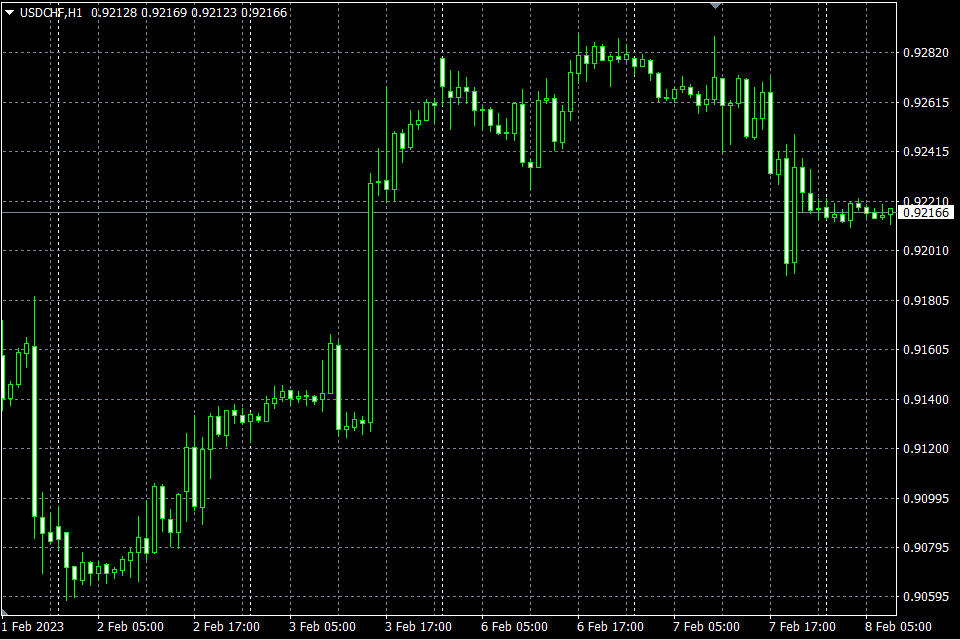 Adding and removing grids is another brilliant way to customize your MT4 chart. The grid is handy for traders who want to track where they are on the chart. But it can be a bother for traders who don't need it, especially if it's blending in with candlesticks and indicators.
The grid is automatically there when you install your MT4. But you can remove it by simply using the "Ctrl+G" command on your PC.
Bigger and Smaller Candlesticks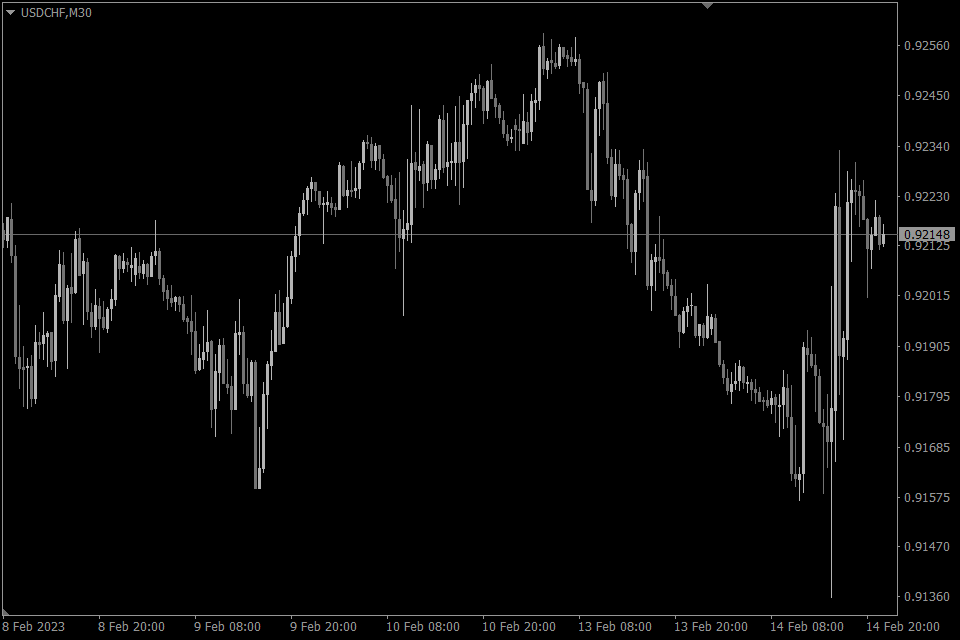 If your candlesticks are too small, you can zoom in. And if your candlesticks are too large, you can as well zoom out. This way, you can always bring some change to your chart without doing much.
The options for zooming in and out are on the tabs that are immediately under the "view," "insert," "tabs," and so on.
Showing and Hiding Navigations, Terminal, and Instruments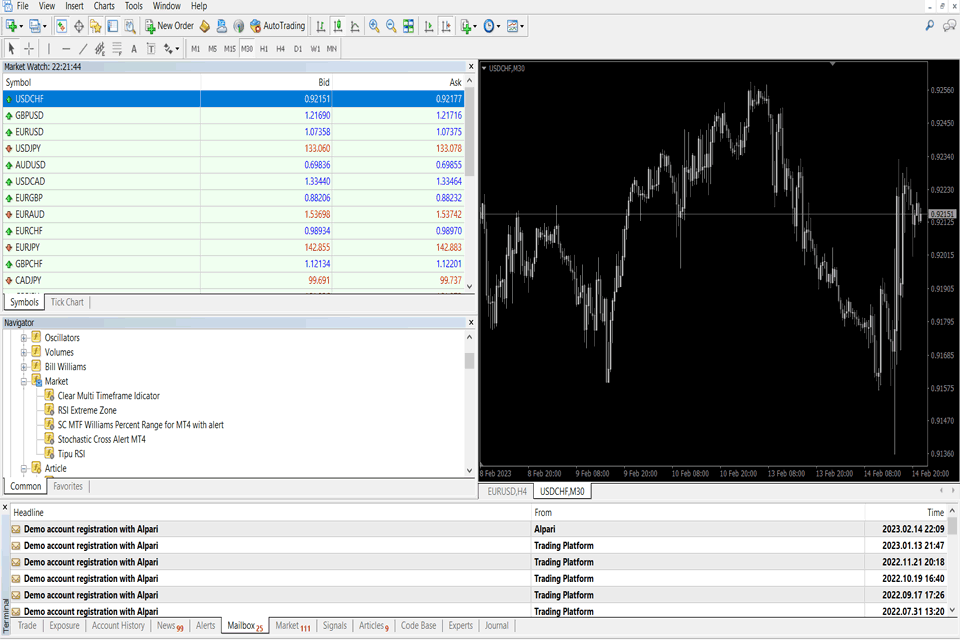 Another helpful customization option on the MT4 is to show or hide your navigation, terminal, and trading instruments. This can be especially useful when you want a full-screen chart without obstruction. The "Ctrl+M" command toggles on and off the Market Watch (or trading instruments) section, while the "Ctrl+N" does the same for the Navigation section. And, of course, "Ctrl+T" shows and hides the terminal.
Multiple charts on the Screen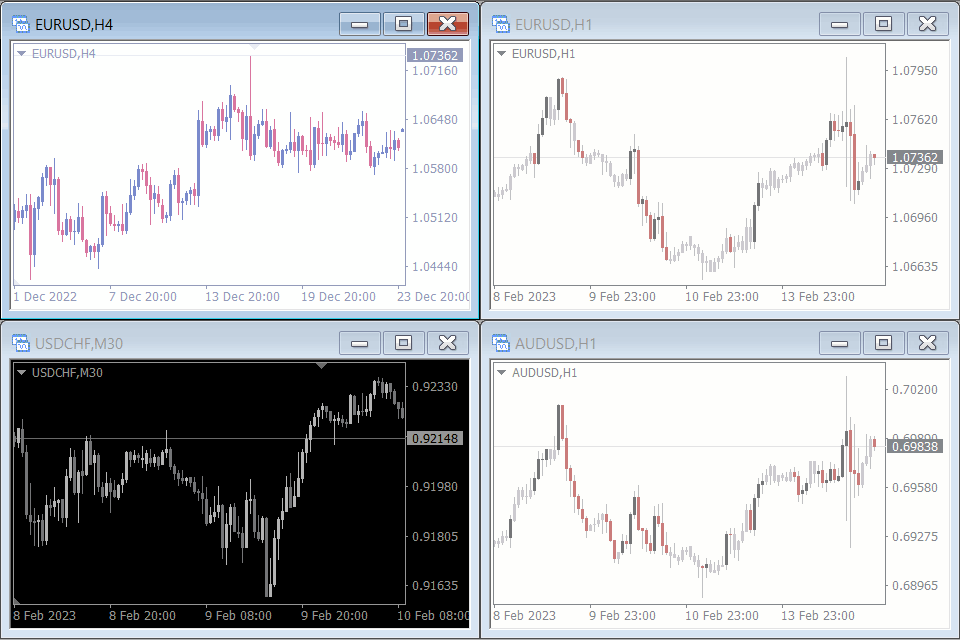 The MT4 allows you to add as many charts as you want on your MT4. If you only have only one chart, simply minimize the screen with the "minimize" button. It's the middle one of the three buttons at the top right corner of the chart. Then you can simply drag and drop a new trading instrument on the chart section. You can do as many as you like. But you should limit the charts to four, so you don't confuse yourself with too many charts on your screen.
Customizing MT4 Charts With Indicators
There are more ways to customize your MT4 charts than with the options the makers of the trading platform have provided. Some indicators do just that. And of the many in the market, we've found some of the best MT4 customization indicators to be these:
Chart Overlay
This indicator has ten different color palettes. With each template, you get a different chart background and candlestick color. In addition, these changes also reflect on the settings of the chart itself.
Volume Candlesticks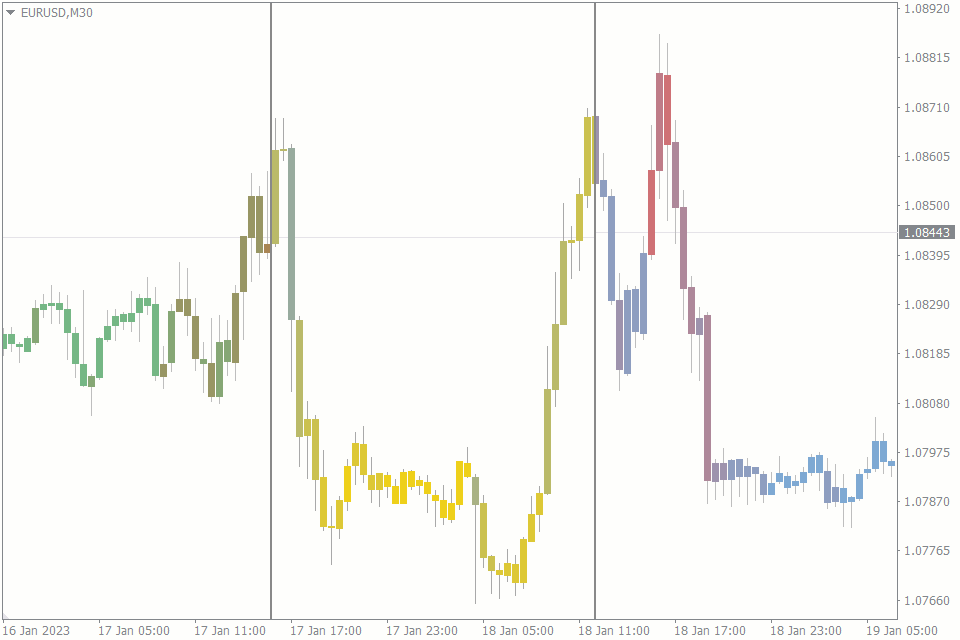 This indicator helps to map the volume on the chart without adding a volume histogram. It creates a 3D effect using the heat map based on ordinary candles. While the Volume Candlesticks indicator does not completely substitute for the volume histogram, it's a great way to customize your MT4 chart with an indicator.
Other Customization Options for Your MT4 Charts
There are still more customization options if all of those we discussed don't do the trick. One of them is through the use of customized templates. In fact, we curated an article listing some of the best customization templates for MT4 charts.
Conclusion
Are you tired of the looks of the old and outdated MT4 but can't migrate off it because of its eternally excellent effectiveness? What you need is customization. And you can do that using the options built into the MT4 itself of using indicators, such as the chart overlay and the Volume Candlesticks.

Anastasia Chaika Content Manager