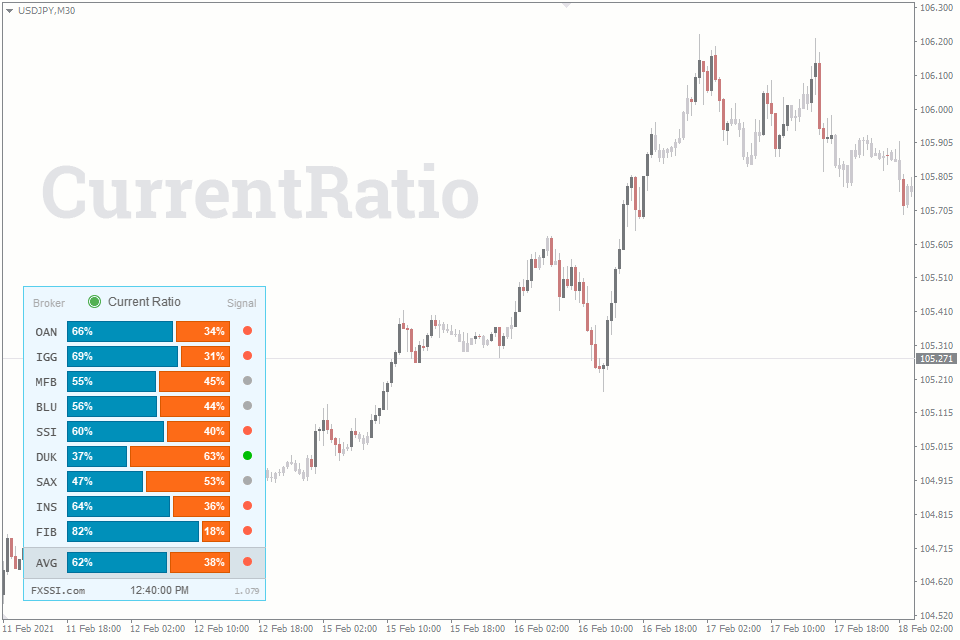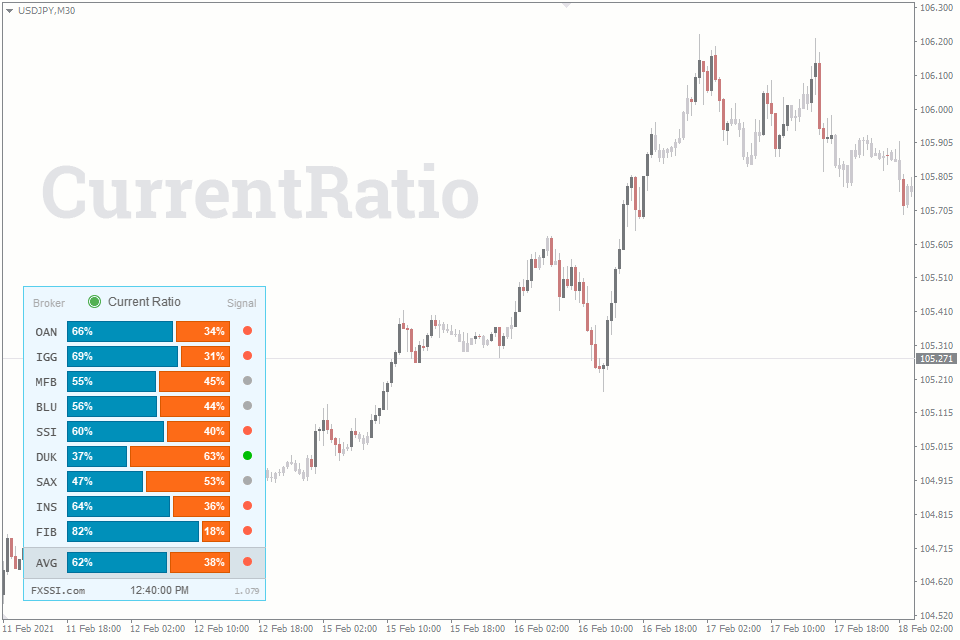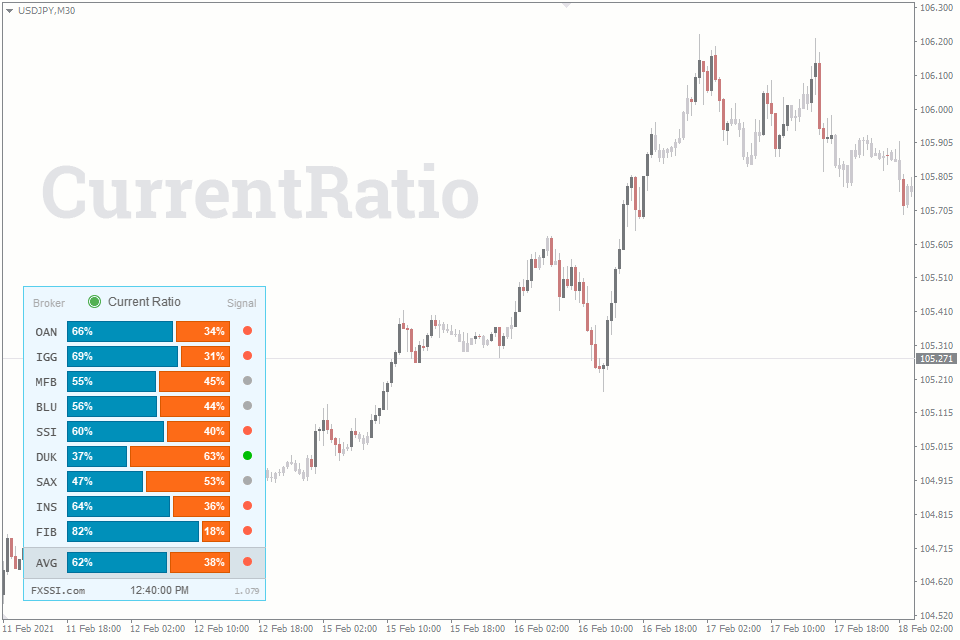 When talking about trading "against the crowd" or the sentiment trading, we usually mean the analysis based on buyers and sellers ratio. This is the simplest and the most understandable indicator for a trader. Probably, for this reason, it is also the most popular one.
Current Ratio indicator displays the percentage of traders' positions on the graph in the form of a small panel with quick access.
In this indicator, you will find buy/sell ratio data from 9 large brokers, as well as on 12 currency pairs (the numbers are relevant at the moment of writing this article).
The indicator is used for:
Mid-term trading;
Order directions determining;
Quick trend condition assessment.
The indicator doesn't require any extra resources and is very compact, which makes it almost a compulsory tool in the arsenal of every trader, regardless of the strategy used.
What is the trader positions ratio?
According to the popular opinion, about 95-99% of traders lose money at the market, that is, they trade at a loss. Based on this, trading in the opposite direction from most of the traders can be profitable.
This indicator was created for such a quick market sentiment overview.

The image above displays the simplest analysis method using this indicator. The blue bar is the percentage of buyers, and the orange one is the percentage of sellers.
Basic logic: If the majority buys, you should look for sale options and vice versa. If most traders expect the currency pair to fall, you should consider buying opportunities.
You can read about other methods of analyzing the positions ratio in our "trading against the crowd" strategy guide.
Indicator Capabilities
The indicator is ready to use right out of the box, you only need to set it on the chart.
The list of the indicator's main features:
Custom AVG formula – enter your own formula to calculate the average positions ratio value;
Signal range – specify the signal data range frames;
Compactness – the FXSSI.CurrentRatio indicator takes up a small space on the chart (in the minimized mode) and still remains informative because of the signal values summary displayed;
Auto settings – the indicator is equipped with a function to automatically determine the color scheme and time zone.
The demanding users can customize the indicator as they like, using the wide list of settings.
---
Installation
Extract downloaded .zip file to your MQL4/ folder. For more details read the instructions:
If you have any questions, please contact us.
Turn on/off the data of the specified broker.
Turn on/off the data of the specified broker.
Turn on/off the data of the specified broker.
Turn on/off the data of the specified broker.
Turn on/off the data of the specified broker.