What are Alerts in MT4, and How to Use Them?
In this article, we are going to tell you about Alerts in MT4 terminal, their creation and customization in full details, and we will also mention an example of when you can effectively use alerts in practice.

Anna Shevelova Software Strategist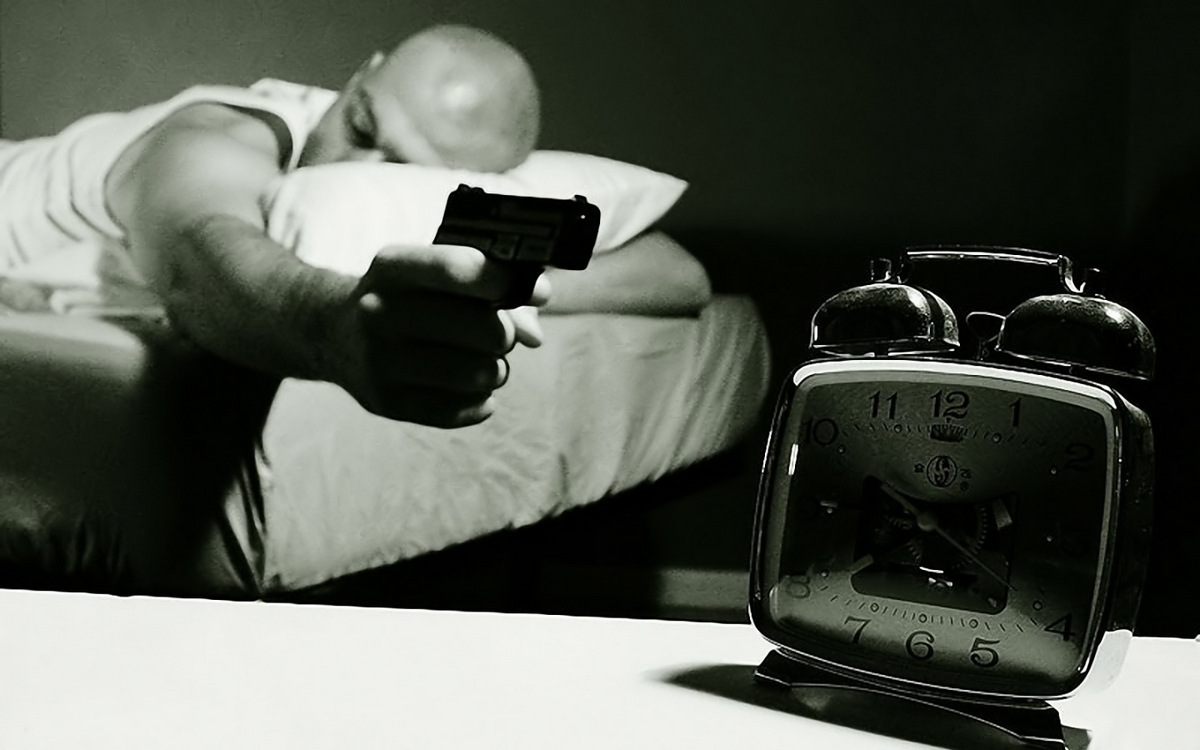 Understanding Forex Alerts in MT4
Trade alerts in MT4 is a feature that allows to notify users of several events happening in the market. MT4 sounds alerts (alarm) meaning: traders can use this feature, to get sound alerts in Metatrader 4 upon hitting a certain price level – it enables them to always keep their fingers on the pulse of the market.
Alerts are displayed on the chart and look something like this: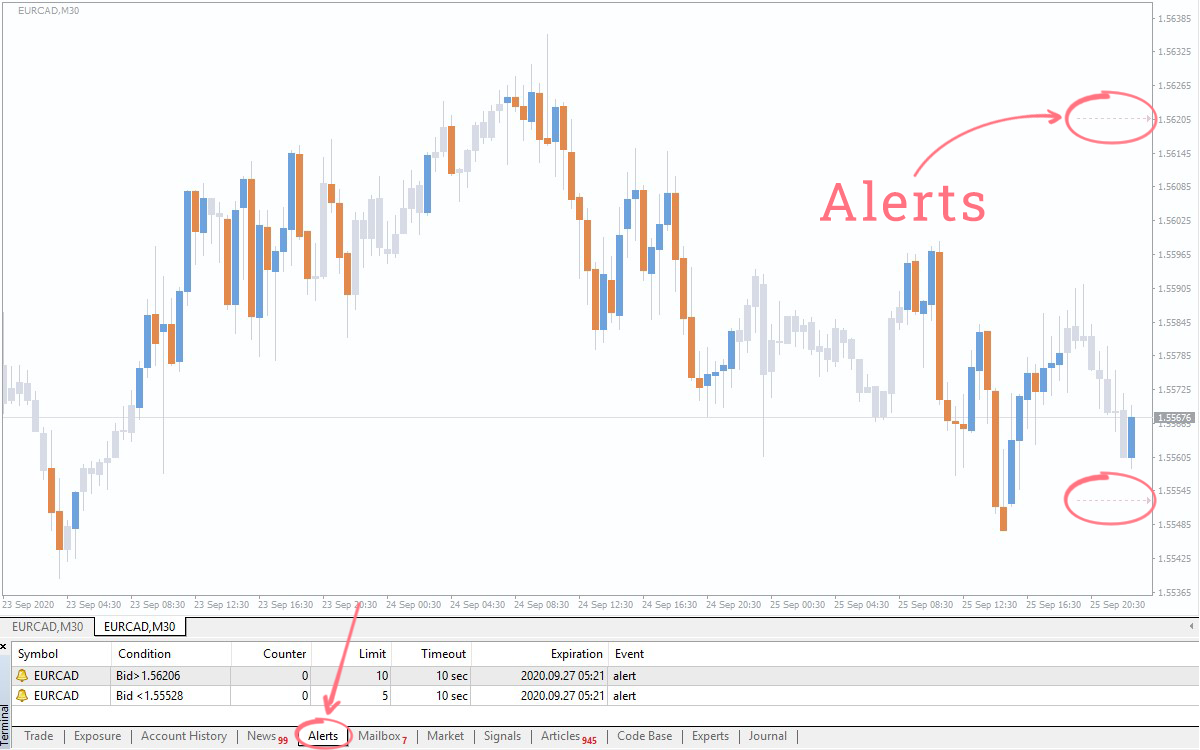 All the features available to ordinary orders – for example, color change, drag-and-drop by mouse or calling a customization menu by double-clicking – can be applied to alerts.
You can set three conditions under which an alert will trigger:
Bid price hits a certain level.
Ask price hits a certain level.
Alert triggering after a certain time period.
Notice that there are Expert Advisors and indicators using their own built-in alerts which cannot be found in the list under the "Alerts" tab. For example, we often use alerts in our indicators to send sound notifications when trading signals are generated and up-to-date data come from our server to the user's terminal.

Creation and Customization of Alerts for MT4
Btw, if you are looking to upgrade your terminal with pro indicators and different utilities you can browse from variety of resources available at FXSSI Product manager.
---
So, how to set alerts on MT4? You can create alerts in two ways (see the picture below for more details):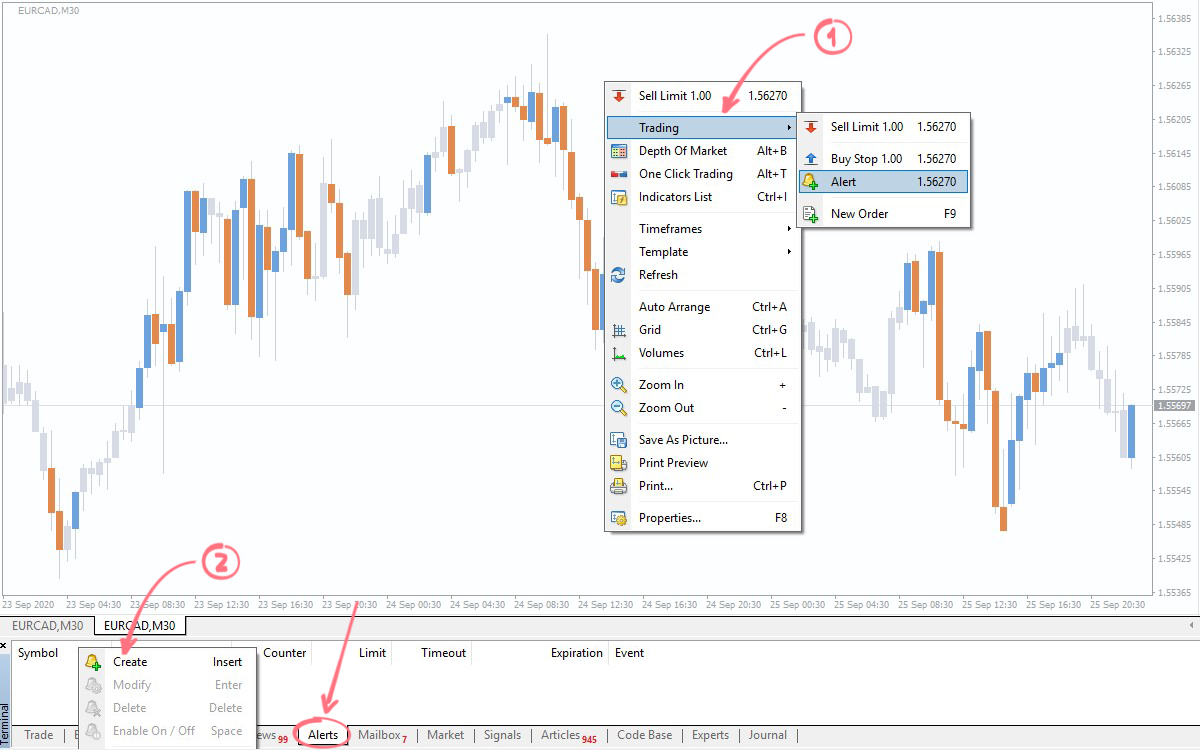 Right-click on the chart, then select Trading → Alert. The alert will be immediately created. It is convenient because it can be created exactly at the required price level.
You can do this directly on the "Alerts" tab as shown in the picture above.
Now you know how to add sound alert to MT4 and you can go to the alert customization menu ("Alert Editor") by double-clicking it on the chart. See an example of an already customized notification (the actions required are listed below the picture):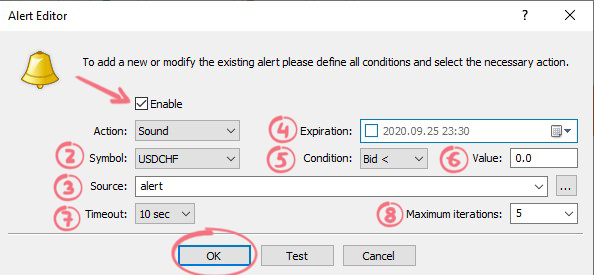 Action. The following actions can be performed after an alert has been triggered:

Sound alert mt4 (Sound signal).
Running the selected file (File).
Sending email notification (Mail). You need to configure mail settings in MT4 to send written notifications.
Sending notifications to a mobile terminal (Notifications).

Symbol. It's all clear here – select the financial instrument that you are willing to receive notifications for.
Source. Here you need to select which signal/file must be run or enter subject and text of the letter to be send.
Expiration. Data and time when alert is automatically removed can be specified here, if necessary.
Condition. Specify the condition under which alert must be triggered: notification will be sent when Ask/Bid price hits a certain level or when the specified time comes (time should be specified as hh:mm).
Value. It is a continuation of the item 4. I suppose that won't be a problem.
Timeout. It means a delay between alerts to be triggered (in seconds).
Maximum iterations. It is a continuation of the item 7. Here you should enter the maximum number of times that the action specified in item 3 must be triggered.
Now we have finished with the settings, so let's talk about when you can use alerts.

Using Alerts in Practice
Many traders disregard this feature. However, its usage pays it off in practice, so we're going to list several situations where alerts should be used:
Sometimes it doesn't pay to open a trade at the current price – this is why one has to sit in front of the computer looking at the trading terminal and waiting for a good price (Limit order is not always a good idea). In such situations, you can safely set an MT4 alarm and go to watch the TV. When the alert is triggered, you should go back to your terminal, analyze the market and open a trade.
If you dislike trading in a range or wait for level breakout, you can set an alert to be triggered when price exits from a range.
If you trade at the market opening (the London, New York, etc. session), it will be comfortable for you to use alerts to notify you about the opening. Although in this case you should make use of Trading Sessions indicator ("FXSSI.TradingSessions").
Forgetful investors can also set notifying alerts before news releases. As in the previous case, it's better to move this feature to the specialized News indicator ("FXSSI.Calendar").
The following picture shows a practical example where entry point has been defined based on "Three Indians" pattern.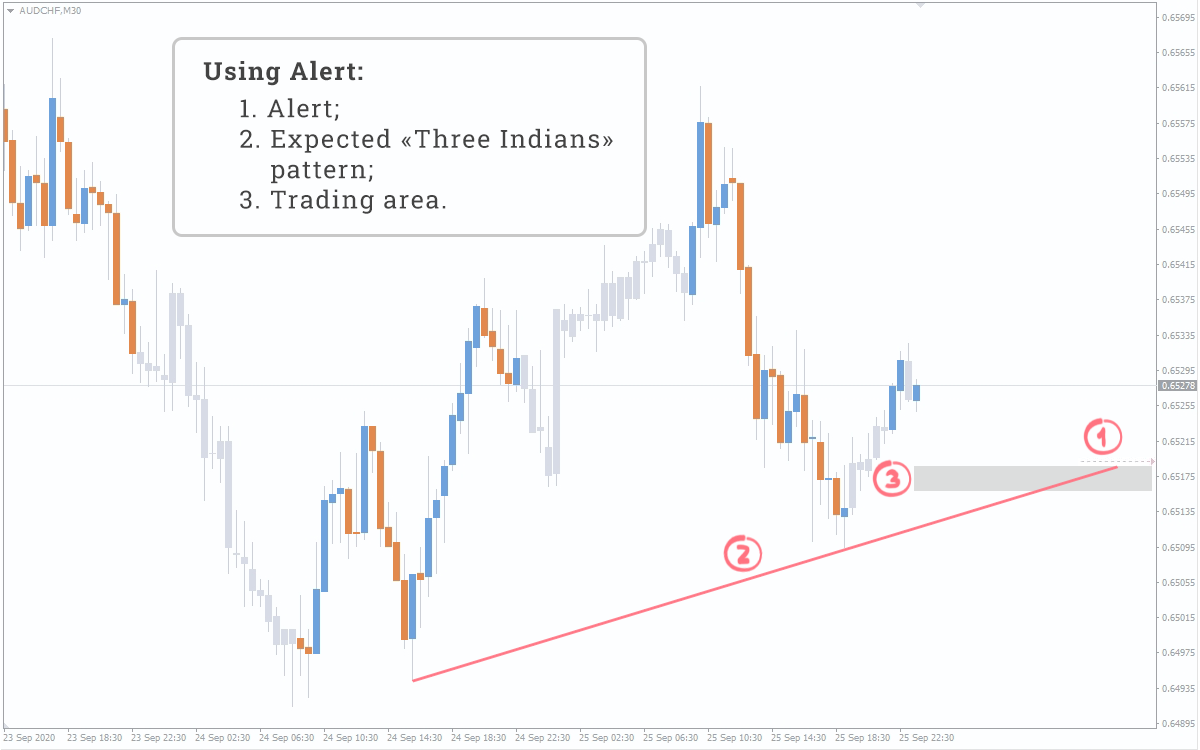 Area of successful market entry is marked in gray, and the alert has been set next to it.
In any case, you shouldn't put a lot of time into setting alerts – set only those alerts that really matters. The tool must be used as intended.
Download more alerts for a terminal
Many readers who visit this page begin to look for sound signals that can be added into their trading terminals to those already in place. This is why we collected some interesting sounds.
You can download and add them into your terminal.
The downloaded file should be placed in the "Sounds" folder located in the root directory of your terminal.

Anna Shevelova Software Strategist