The Best Indicators for Day Trading Forex
When developing a new day trading strategy, most likely, you'll find yourself asking whether to use indicators and which ones.

Slava Loza Forex Trader & Analyst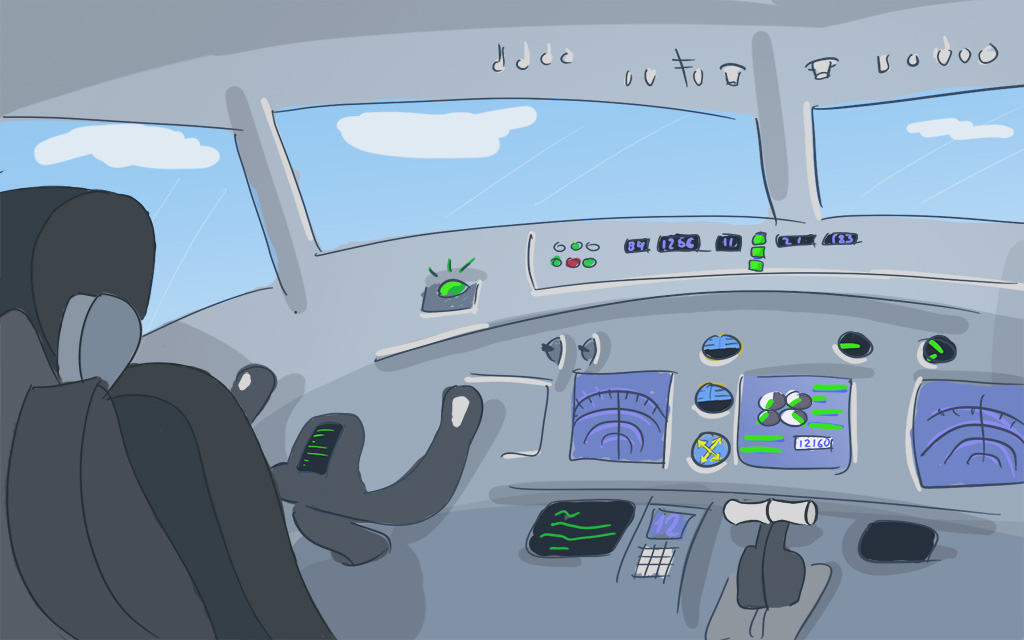 When implemented alongside prudent risk management, finding the best indicators for day trading Forex can take your strategy to the next level.
Forex indicators give traders signals, based on mathematical calculations around price.
These signals are then plotted on your chart, either directly over price candles, or displayed visually in another format inside windows underneath the main chart.
Indicators can help traders identify trends and signal optimal entry or exit points within an overall day trading strategy.
We go over some of the best Forex indicators for day trading below, dividing them into 3 major categories.
Best Forex Indicators
Which Forex indicator is the best choice for you, will largely depend on your day trading strategy and risk management rules.
We've featured three groups of Forex indicators below.
Sentiment indicators
Signal Indicators
Utility Indicators
Remember that the following list of best Forex indicators is just a starting point for day traders and are not ranked in any way other than their grouping type.
If you're looking to take a further step, make sure you explore the full range of MT4 indicators on our products page.
1. Sentiment indicators
The first group of Forex indicators for day trading, can be defined as sentiment indicators.
Sentiment indicators show the number of trades and traders that have taken a particular position within a Forex currency pair.
They're used to alert Forex traders about extreme market conditions and as a result, areas where price more likely could reverse.
The Sentiment Lite indicator displays market sentiment data directly onto your MT4 charts.
You may know the data this Forex indicator displays by another name – The Speculative Sentiment Index (SSI).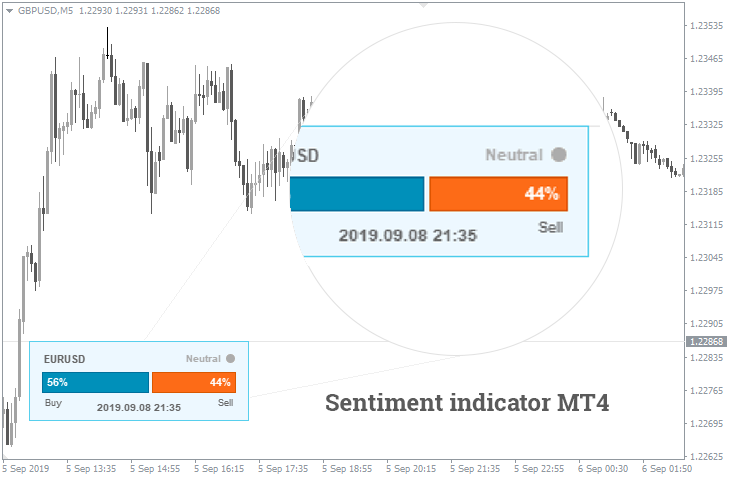 Once the Sentiment Lite indicator is installed, you'll see a histogram that shows the percentage of bulls and bears in the market, displayed as a ratio.
This indicator is an excellent starting point for Forex day traders that are looking to implement sentiment analysis into their strategy, but if you want more data sources then you're able to upgrade to the FXSSI Current Ratio indicator.
The Current Ratio indicator shows the ratio of buy/sell orders currently being held among major Forex brokers.
The current ratio is one of the most popular Forex indicators for day traders because of how simple and usable the data displayed on your MT4 charts can be.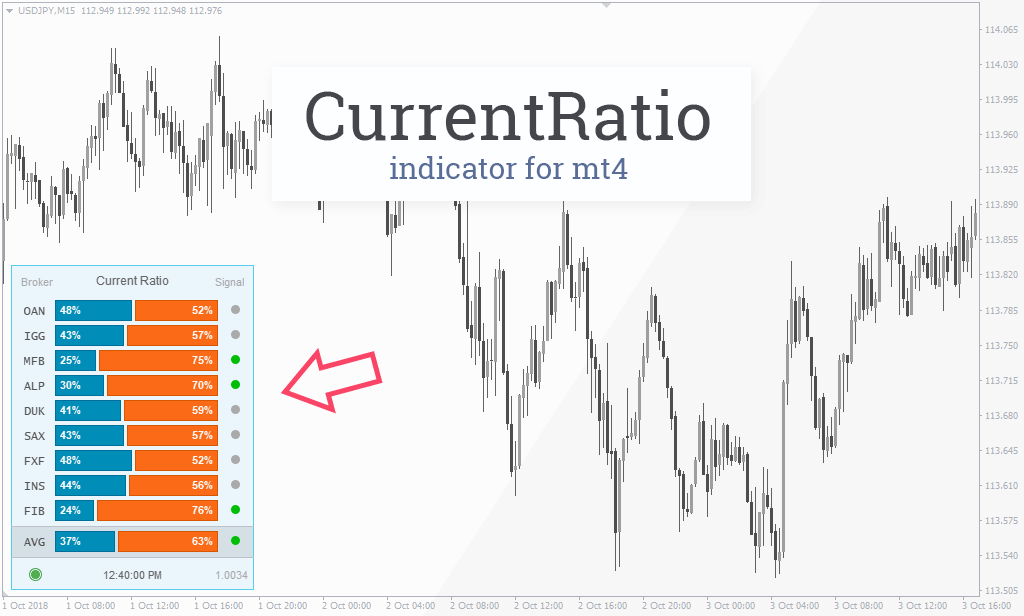 The indicator displays the percentage of traders' positions in a separate panel, giving you a snapshot of how the overall market is positioned.
Buy/sell data is taken from 9 large brokers and can be used on 12 different Forex currency pairs.
From this data, contrarian traders are able to position themselves to not get caught out if the crowd is forced to liquidate when their trades are caught off-side.
The Stop Loss Clusters indicator displays levels in the market, where the highest volume of stop loss orders are currently sitting.
Knowing where stop loss orders are clustered together is highly beneficial for day traders, because they can better predict where institutional traders may look to move the market in order to build their own sizable positions.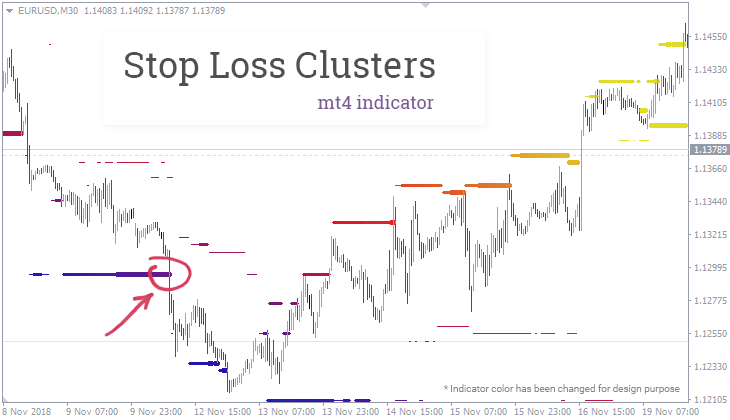 Typically you'll see these clusters of stop loss orders forming at price swings, both highs and lows, as well as just beyond levels of obvious support/resistance.
The stop loss cluster indicator will display only the two largest clusters that are on either side of the current price.
The Profit Ratio indicator is a sentiment indicator that shows the ratio between winning and losing positions among those currently open with major brokers.
With this sentiment data, day traders are able to find potential points where price is more likely to reverse once again, those traders are forced to liquidate their positions.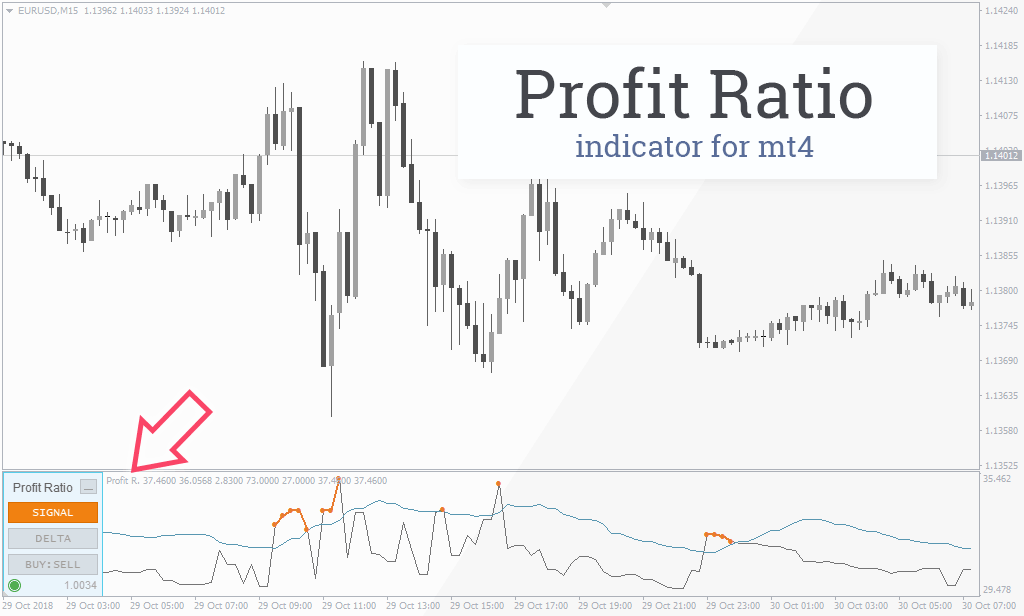 The profit ratio indicator is popular among Forex day traders because it allows you, to some extend, to front run the market.
Day traders are able to potentially enter a trade at the very beginning of a price move and therefore take a larger profit by riding the entire move.
2. Signal Indicators
The second group of Forex indicators for day trading, can be defined as signal indicators.
Signal indicators give an alert or warning when some sort of market event occurs such as an indicator or price crossover signal.
They're used to alert Forex traders that it may be time to open, close or manage a current position that they may already have.
The Pivot Points All in One indicator draws important pivot points directly onto your MT4 charts.
In order to draw pivot points that matter, the indicator uses only the most popular approaches, including the following:
Classic.
Camarilla.
Woodie.
Fibonacci.
Pivot points are based on the idea that price tends to reach yesterday's closing price, much more often than to overcome the previous daily range.
They play an important role in drawing support/resistance levels that are being watched by the most number of eyes.
As a result, pivot points are a type of self fulfilling prophecy, working simply because a large number or market participants think they work.
The TRIX Crossover indicator is a signal indicator based on the triple exponential moving average.
It's an MT4 indicator based on one of the most classic technical analysis tools, known as the TRIX.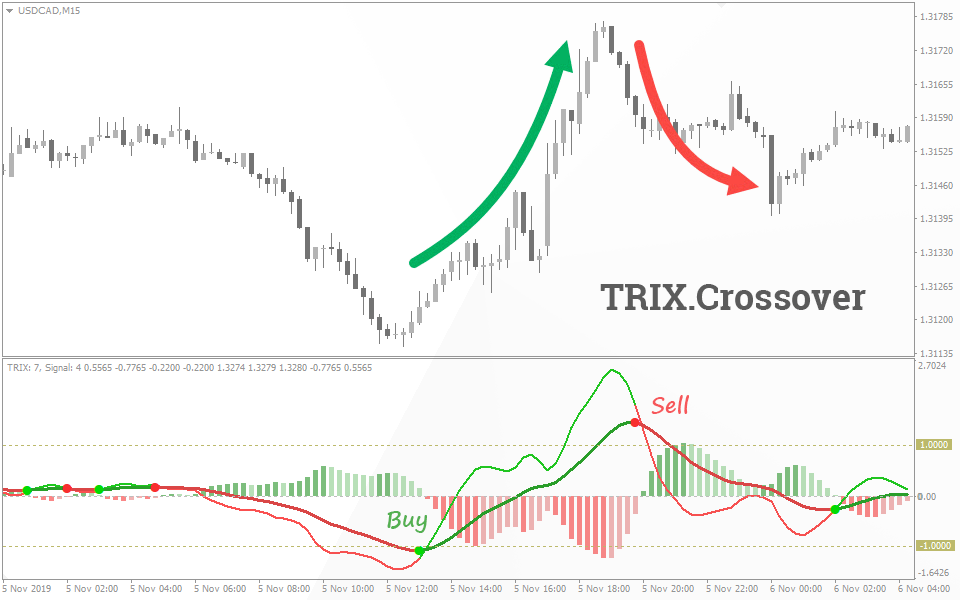 The TRIX is a triple exponential moving average that actually exists as an oscillator, rather than a classic moving average found directly laid over price.
Sometimes also called the TEMA, it uses only price data to build the indicator and is perfect for day trading as it doesn't ever re-calibrate once price has been printed.
The Auto Trend Line indicator does exactly what its name says, automatically spotting and drawing trend lines directly onto your MT4 charts.
This indicator displays only trend lines that are currently in play, automatically removing old lines that no longer retain relevance to future price action.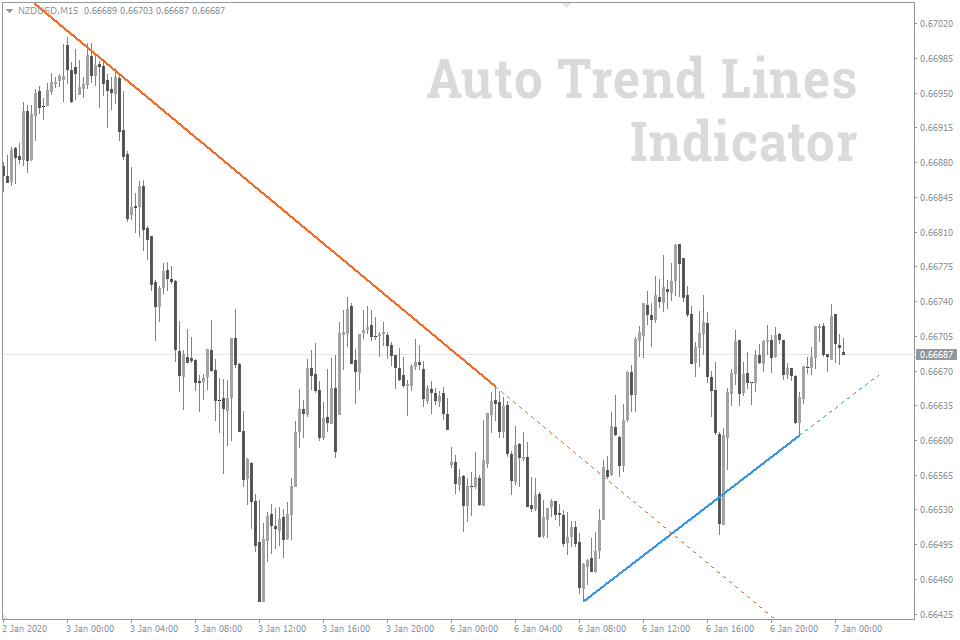 We all know how subjective trend lines can be and the auto trend line indicator prevents inconsistencies when placing them.
Something that is highly beneficial when back-testing a day trading strategy because there are no inconsistencies in which point of the candles you use to draw trend lines.
The Support & Resistance indicator spots important levels where price has had an active interaction on the chart, sometime in the past.
It's an indicator designed to help traders by automatically drawing important levels where price may be more likely to react when it is retested sometime in the future.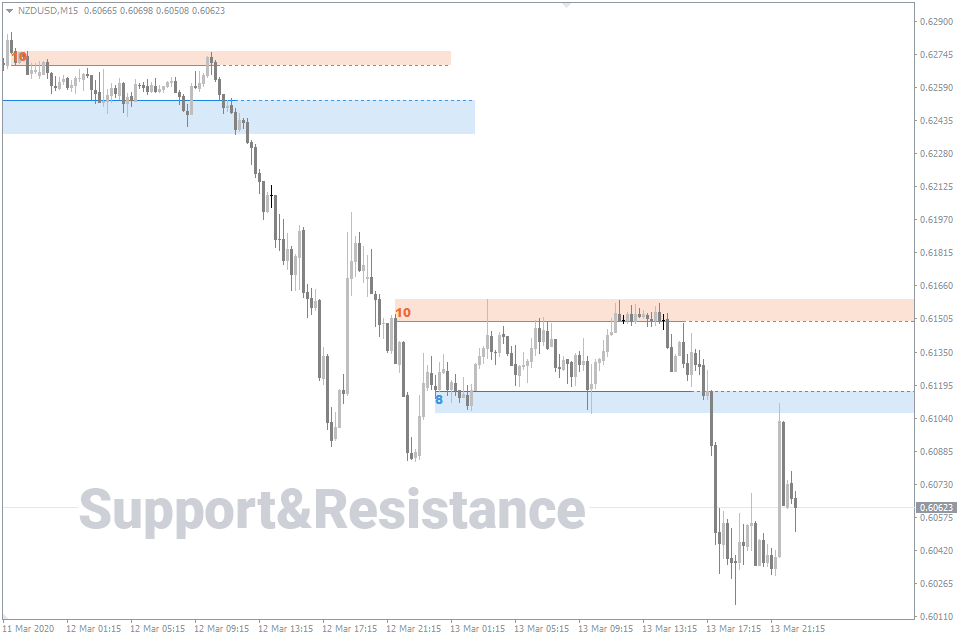 The support & resistance indicator can identity levels where price has had the maximum number of price touches or bounces.
It then, draws support levels in blue, while clearly differentiating resistance in orange.
3. Utility Indicators
The third and final group of Forex indicators for day trading, can be defined as utility indicators.
Utility indicators supplement your trading strategy in some way.
They're used for things that are not specific to your strategy, but supplement your day trading by providing general market information that you may still find helpful.
The Trading Sessions indicator shows each of the global Forex market sessions, directly onto your MT4 chart as coloured boxes.
The indicator allows you to clearly see where each of the session open and close times occur, as well as view any intraday ranges helpful to your day trading strategy.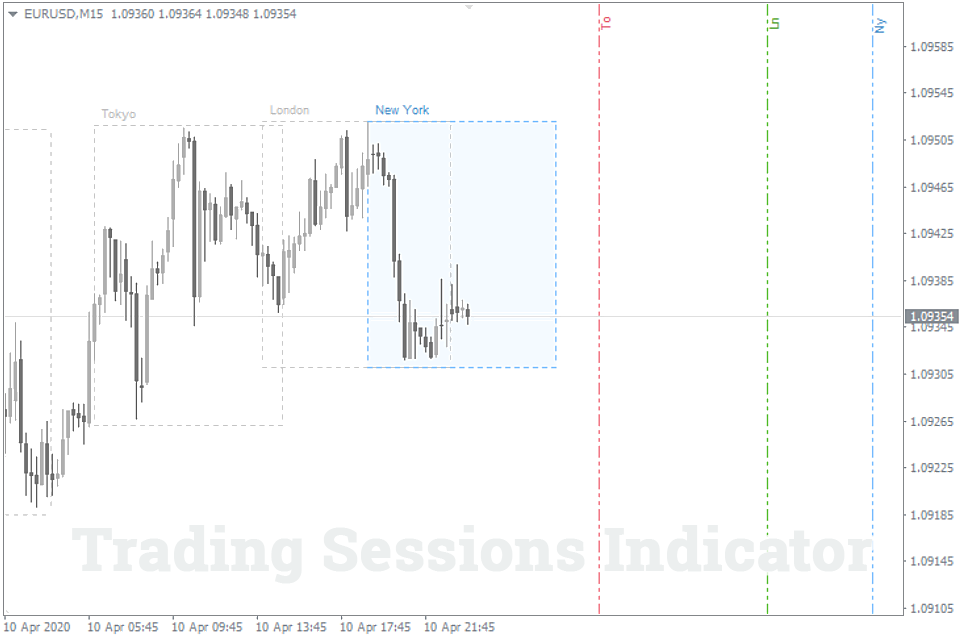 The four major Forex sessions that the indicator shows are displayed in the following table:
| | | | |
| --- | --- | --- | --- |
| Session | Acronym | Opening time | Closing time |
| Tokyo | (Tokyo/Tyo/To) | 23:00 UTC | 8:00 UTC |
| London | (London/Ldn/Ln) | 7:00 UTC | 16:00 UTC |
| New York | (New York/Nyc/Ny) | 12:00 UTC | 21:00 UTC |
| Sydney | (Sydney/Syd/Sy) | 21:00 UTC | 6:00 UTC |
The Round Levels indicator draws grid lines directly onto your MT4 charts, which highlight round numbers.
When we talk about round numbers, we're alluding to prices at "00 levels" and "50 levels". There's no denying that these levels are significant when you watch price action.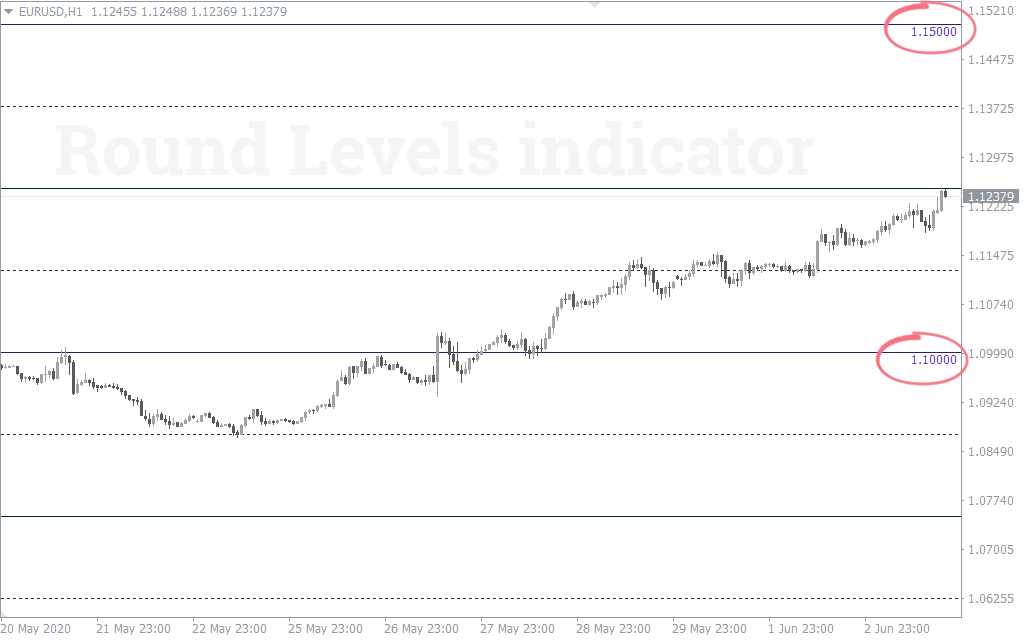 Human beings are strange creatures that look to simplify everything that they do and when it comes to day trading Forex, they look to do business at round number prices.
If you understand where traders are more likely to place their orders, then you're able to take advantage of flows around them.
The Calendar indicator shows the major economic news calendar, directly on the active MT4 chart that you're trading.
The advantage of this particular calendar indicator is that it doesn't have an overbearing appearance, giving you only the most relevant information required by a Forex day trader.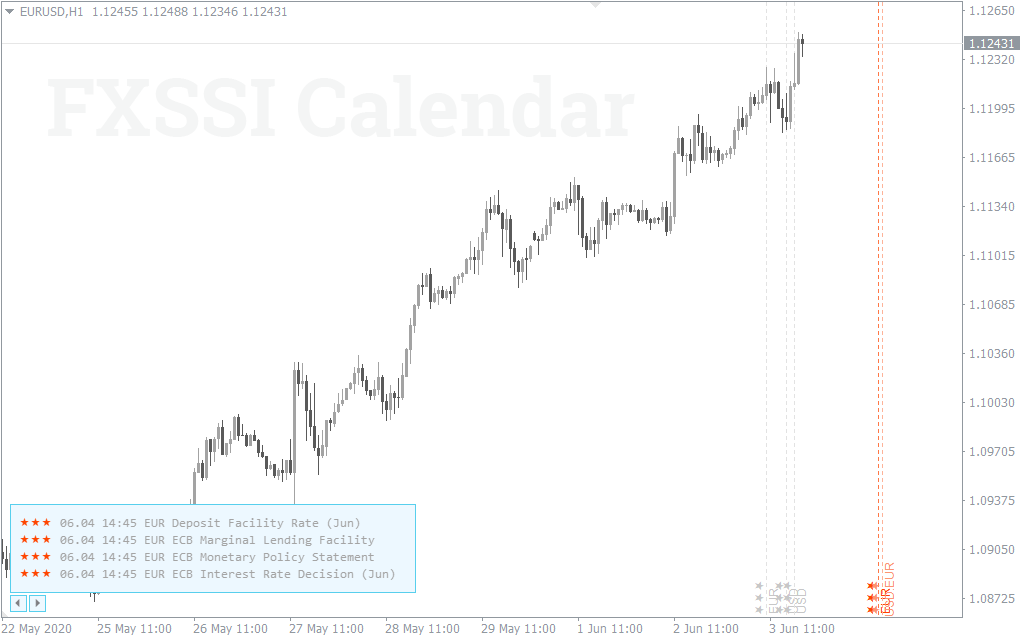 In Forex markets, the news release itself is never as important as whether the reaction to the news was over or under done.
This is why the indicator chooses not to show the details of every release, instead, it focuses on the release time and market impact at a glance.
This particular calendar indicator for MT4 is best suited for non-news day traders, who simply require a reminder to be aware of increased volatility around releases.
The Spread Warner indicator monitors the value of your broker's spread and sends a warning when the spread starts to widen.
The indicator helps day traders who take a high volume of trades to avoid executing a trade right as the spread widens.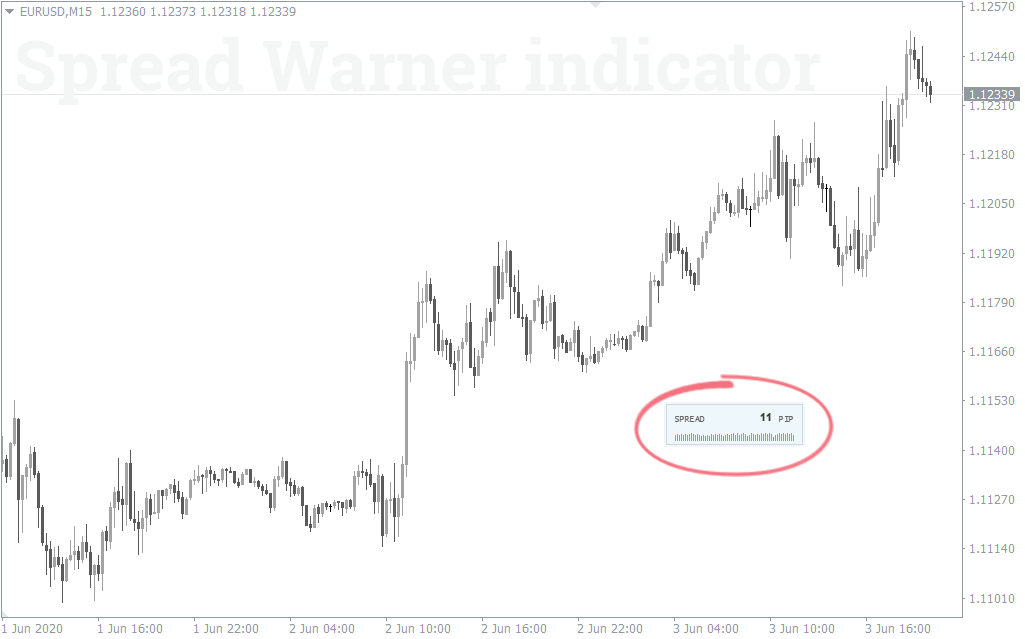 If the spread is wider than normal, the indicator will send a warning that you should consider waiting for normal market conditions to resume in order to minimize slippage.
This warning can often be a precursor to fast moves as the rest of the market catches on to the lack of liquidity currently available.
Is There Really a Best Indicator for Day Trading?
The short answer to this question is no.
But in saying that, there most definitely are indicators that work better than others in certain situations and day trading strategies.
The best Forex indicators for day trading will ultimately be the one that works best for you and your particular strategy.
You can also consider using multiple indicators at once, possibly pairing indicators to both give trading signals and then filter them so you're taking only the highest probability trades.
By combining indicators, you're giving further reinforcement of trading signals, ultimately leading to a higher winning percentage on your day trading strategy.
Whichever combination of indicators you choose to use, make sure you're testing the results and always refining your strategy as you receive more and more data.
Do Forex Indicators Really Help When Day Trading?
Whether you're a subjective price action trader, or a mechanical trader who relies on distinct signals to enter and exit trades, indicators can help.
As we've highlighted, Forex day traders can use indicators for a variety of uses, both in signals and supplementary utilities like alerting when a major economic release is imminent.
Day trading can be a stressful, requires an intensive endeavor of concentration, so make sure you're using Forex indicators to help relieve some of the pressure, not add to it.
In order to avoid becoming overwhelmed, consider using only one indicator from each category.

Slava Loza Forex Trader & Analyst