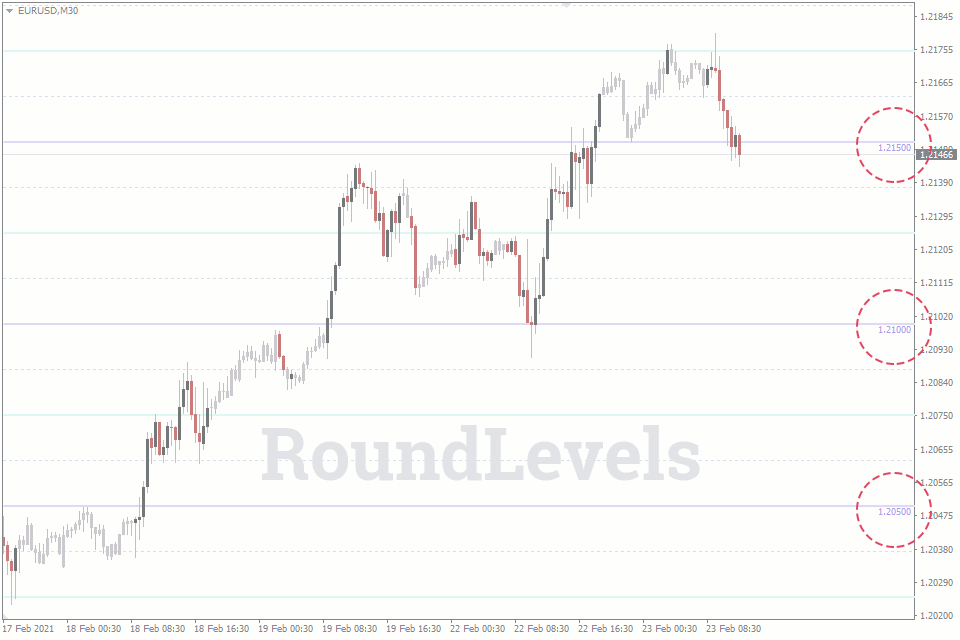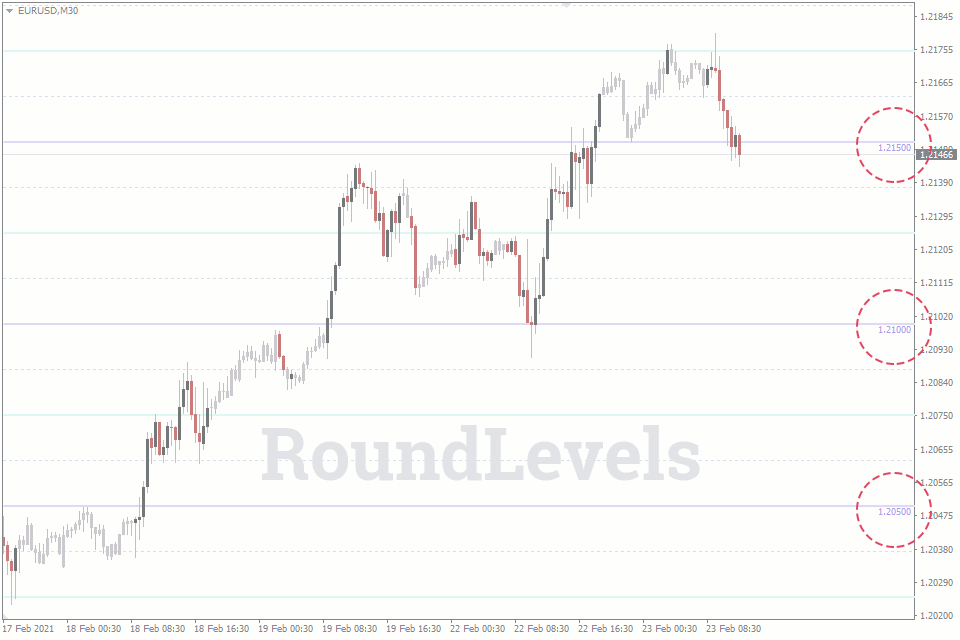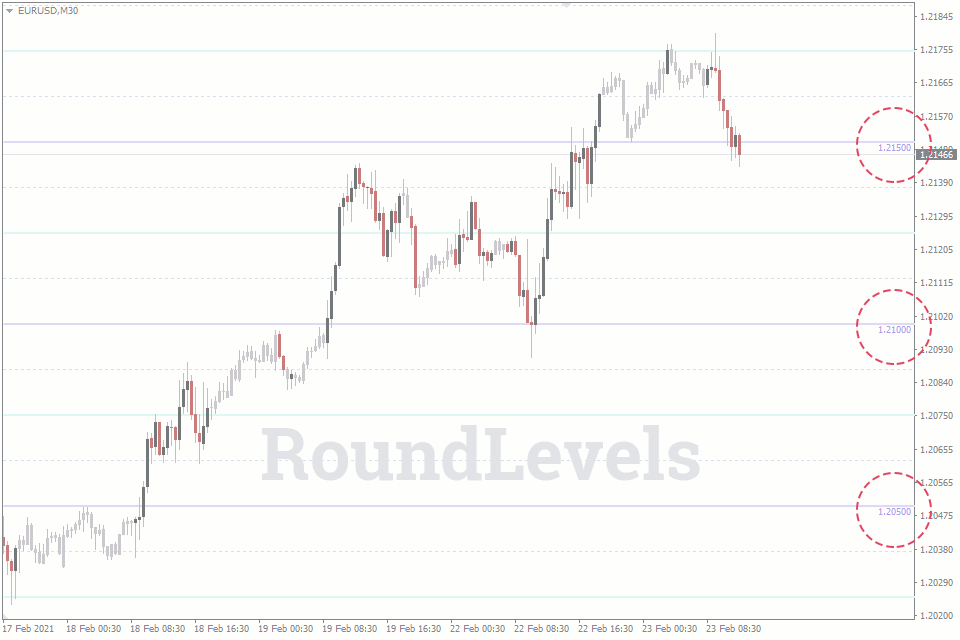 We all know about support and resistance levels, however, we do not always understand the reason why they can be found exactly at these levels but not other ones. The answer to this question often lies in the "Psychology of round numbers".
In this article, we're going to thoroughly consider the concept of round numbers in the Forex market. You can find the link for downloading MT4 Round Number Indicator as a bonus at the top of this article.
If you have been trading using charts long enough, you might notice how weirdly the price behaves next to such round levels as 1.2700 or 1.3000. You can see how the price responds to such levels in the picture below.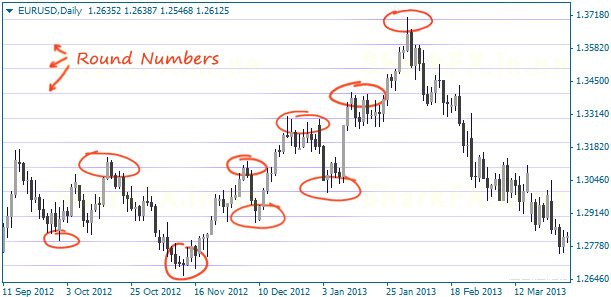 We seek to simplify everything in our everyday life so we often use approximate (rounded) number values.
Here's a simple example: If someone asked you how much your PC cost, you would answer them without hesitation and round the price to the nearest number exactly divisible by one hundred. For example, your answer could be as follows: "I bought it for $700". Of course, you could say that it cost 691 dollars and 75 cents but it hardly makes any sense.
When people ask a question like that, they usually wish to get an answer in the form of a rough (rounded) number to be aware of how much this computer may cost.
It's human nature to make it easy so we will usually round values to the nearest whole number.
The same is true for trading.

What are round (psychological) levels on the Forex market?
Most traders set their orders and stop orders at round number price levels without hesitation.
Just to be sure, let's look at OrderBook (shown below) where one can see an accumulation of orders set by traders at the levels of 1.2100, 1.2200, etc.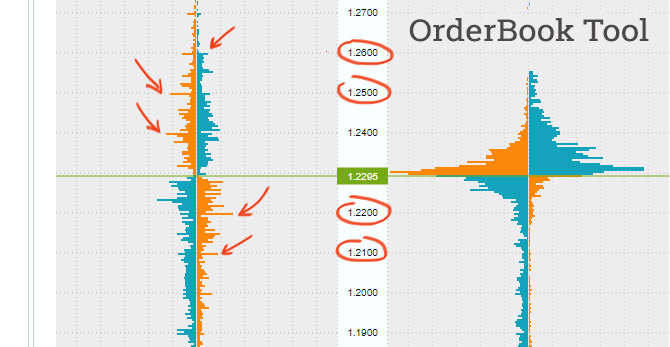 Besides, many traders take into account "half"-levels such as 1.2850, 1.3050, etc., and some of them even make allowance for "fourth"-levels.
Round number levels take everything into account – both retail traders and major banks. When price approaches these levels, the number of trades and trading volume increase, and the price behaves in a more dynamic way.
Generally speaking, the fact that round number levels have some influence on the market cannot be denied.
Let's review another illustration of how price responds to round number levels.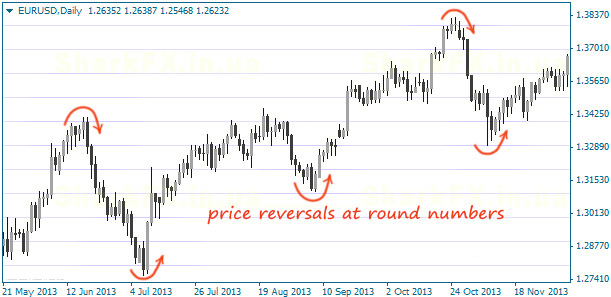 Note that most price reversals shown in the picture above occur at round number price levels. This is because traders create sufficient trading volumes that allow the price to bounce off these levels and move in the opposite direction. For this reason, we can regard them as potential levels of support and resistance.
However, we cannot say that all round number levels act as support and resistance levels but they are worthy of every trader's attention thanks to the way price responds to them (see the picture above).
Why do round number levels work?
The most surprising thing here is that Forex psychological levels work at least for the reason that you are reading this article. So, it means that both you and other traders "care about" these levels.
As it was said above, it is in our nature to make it easy and round to whole numbers so we often use round numbers as price levels for setting stop-losses or limit orders.
A massive accumulation of these stop-losses and limit orders can easily change a flow of orders and move the price in the opposite direction. Let's consider another chart with psychological levels.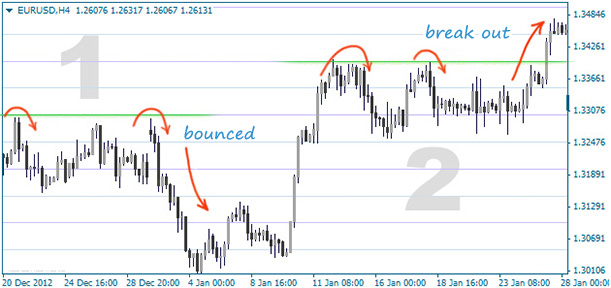 Here we can see two market situations: price bounced off and broke out a psychological level.
However, price bounced off round number price a few times in both cases. We can single out several reasons for it.
Perhaps, traders believed that the price of 1.34 US dollars for 1 Euro is a very good one for selling Euro.
And the more likely option is that traders opened Buy trades and set Take Profit orders at round number level. It creates a massive accumulation of Sell orders (if they bought, they must sell it) at round number price. Every time price hits this level pending, Sell orders trigger thereby creating an excessive supply in the market. This, in turn, causes the price to bounce.
Depending on the market balance of power, the price may both bounce off and break out a psychological level after hitting it a few times. So, what's the point of analyzing round number levels?
In most cases, an untested psychological level can be regarded as a point of support or a zone where some support or resistance can be found. Unfortunately, it can be done only by the fact of testing it.
When the price has already tested a round number level several times, it suggests to us that a mass of traders sees the level and the rest depends on the technical market picture.
It is a very easy-to-use Round Number Indicator highlighting such levels as 1.2600, 1.2650 and even 1.2625 and looking something like that presented in the picture above.

Round Numbers indicator for mt4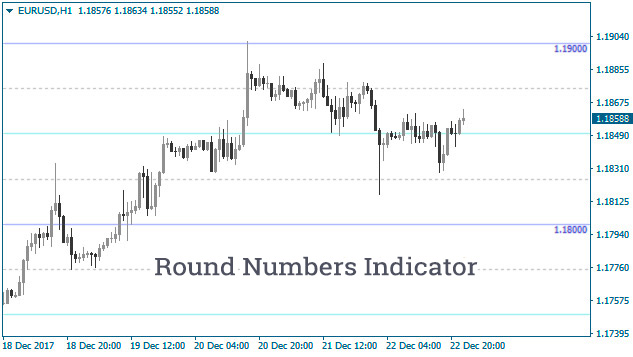 A new improved version of the indicator with an automatic chart scaling option released.
When you install the given indicator, it may seem to you that lines are barely visible on the chart but it's a primary advantage of this indicator as compared to other similar ones.
The indicator of this sort must not be brightly colored and very striking to eyes. You must pay your attention to it only when you really need it.
If you don't agree with us, you may customize it as you wish.
The indicator's settings
The number of levels shown in the chart window: Standard/More/Less. It defines the number of lines to be simultaneously displayed in the chart window.
Draw levels. Select the type of round number levels to be drawn on the chart: All/Round Number and Half-Levels/Round Number only.
Labeling of levels: Enable/Disable labeling of round number/big figure levels.
Type of label:
Price tag – labels will take the form of price, for example, 1.1234
Distance to level – labels will specify the distance from the current price to the given level (e.g. 80 points)
Label font size. 1 – standard, 2 – average, 3 – large.
Thickness of levels. Select thickness of the line depending on the level type.
Line type. Select a graphical format of lines for every level type.
Colors of levels. Select colors of line and level label for every level type.
Alerts. Enable/Disable sound alerts when the price hits round number levels.
How to add FXSSI.RoundLevels in MT4
Follow the instructions below to install the Indicator to your MT4 terminal:
Download the ZIP-archive with FXSSI.RoundLevels indicator file by clicking the link at the top of the page;
Unzip the file into the MQL4/indicators folder of your terminal;
Restart the MT4 terminal;
Run the indicator by double clicking the indicator name in the MT4 Navigator;
Check the "Allow DLL imports" box and click "OK";
The indicator will be displayed on the chart;
Adjust the indicator's settings according to your needs: press CTRL+I, select the indicator from the list, and switch to the "Inputs" tab.
If you have any difficulties while installing the indicator, please view the detailed instruction.