FXSSI.RoundLevels - mt4 indicator
//= \components\ADS::drawAdsenseSlot('ssi-responsive-top') ?>
Draws the figure lines in your mt4 terminal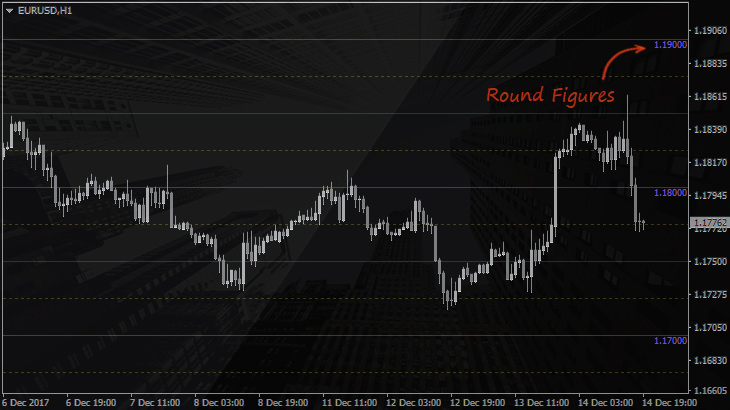 This is a very simple mt4 indicator drawing the round numbers. It highlights such levels as 1.2600, 1.2650 and even 1.2625.  More details on the picture above.
After setting the indicator, you may think that the lines are barely visible on the chart, but this is the main advantage of this indicator from other similar ones.
Such an indicator should not be colorful and strongly noticeable. You should pay attention on it only when you really need it.
But if you do not agree with us, you can customize it the way you like.
Another interesting feature of this indicator is its autoscale function. It means that you can vertical-zoom chart infinitely and the figures will be adjusted.
Settings Description
Levels quantity on screen – determine the amount of levels on the scren. Possible options: Less/Standard/More+
Draw Levels – There are three types: qurter levels, half levels and whole (Figures) levels. You can chose the types of Figures to be shown.
Level Labels – On/Off the labels in front of price scale.
Level Type – chose the type of label:
Price Lebel – shows the price of round level.
Distance – show the distance to this level from current price.
Figure Line Width – pick a width for each line.
Figure Line Type – chose a line type. Possible options: Solid, Das, Dot, Dashdot, Dashdotdot
Figure Line Colors – pick a color for each line.
Alerts – set up the alerts for hitting the Round Levels.
<!— ssi-responsove-test —>
<!— ssi-responsove-test —>