WeekDay&Holidays is an informational indicator that displays days of the week as vertical lines of different styles across the entire height of the chart window.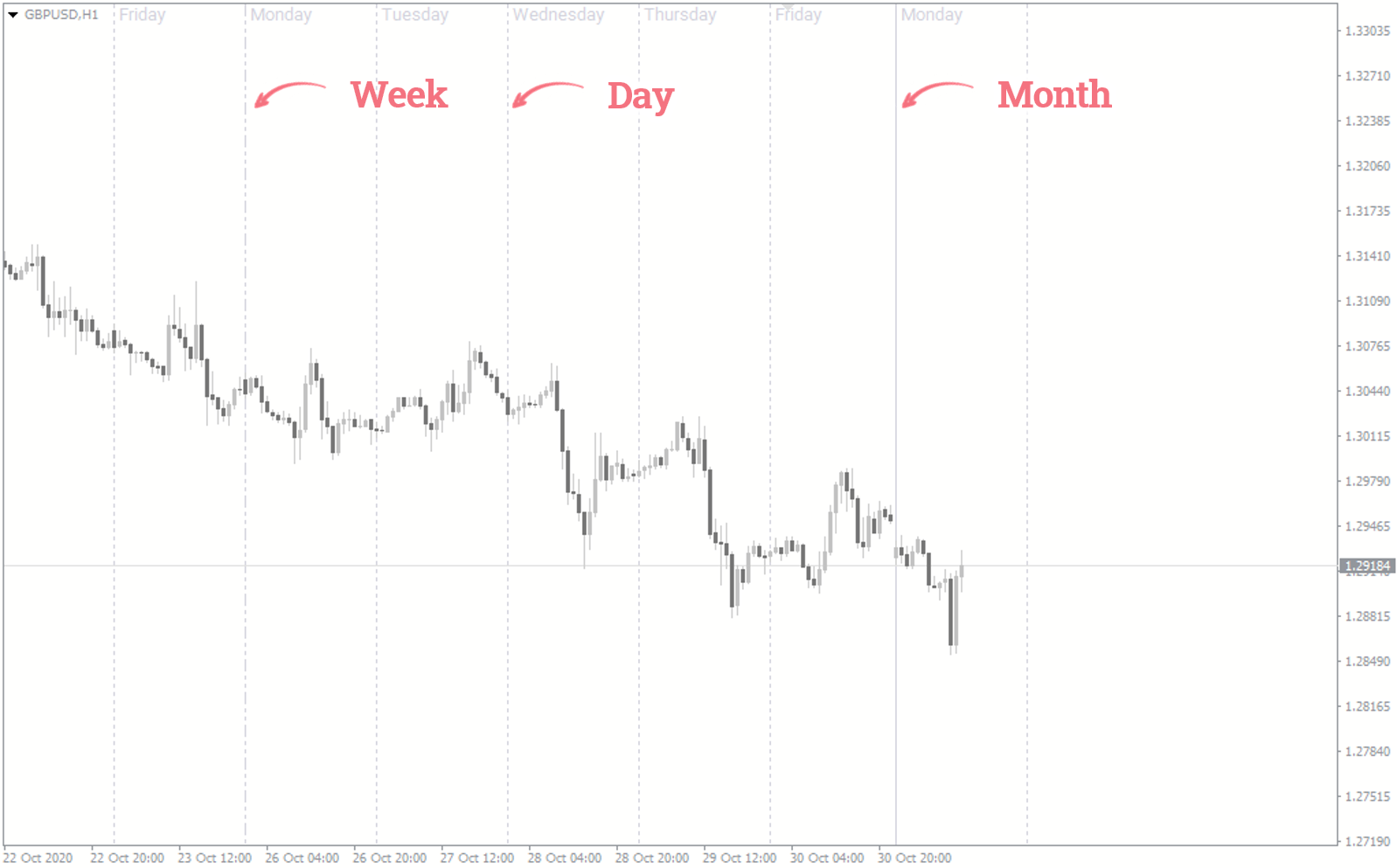 Thin dotted line marks the beginning of the day;
Dash-dotted line marks the beginning of a new week (Monday);
Solid line marks the beginning of the month.
This indicator combines well with the Round Levels indicator and together they replace the standard grid in the terminal.
How the WeekDay&Holidays indicator can be useful
The WeekDay&Holidays indicator makes the price movement analysis within a particular day/week or month faster and more illustrative.
The indicator also has a built-in calendar of holidays (days off) to inform you about the upcoming market close. The corresponding label with the country flag will be displayed at the bottom of the chart.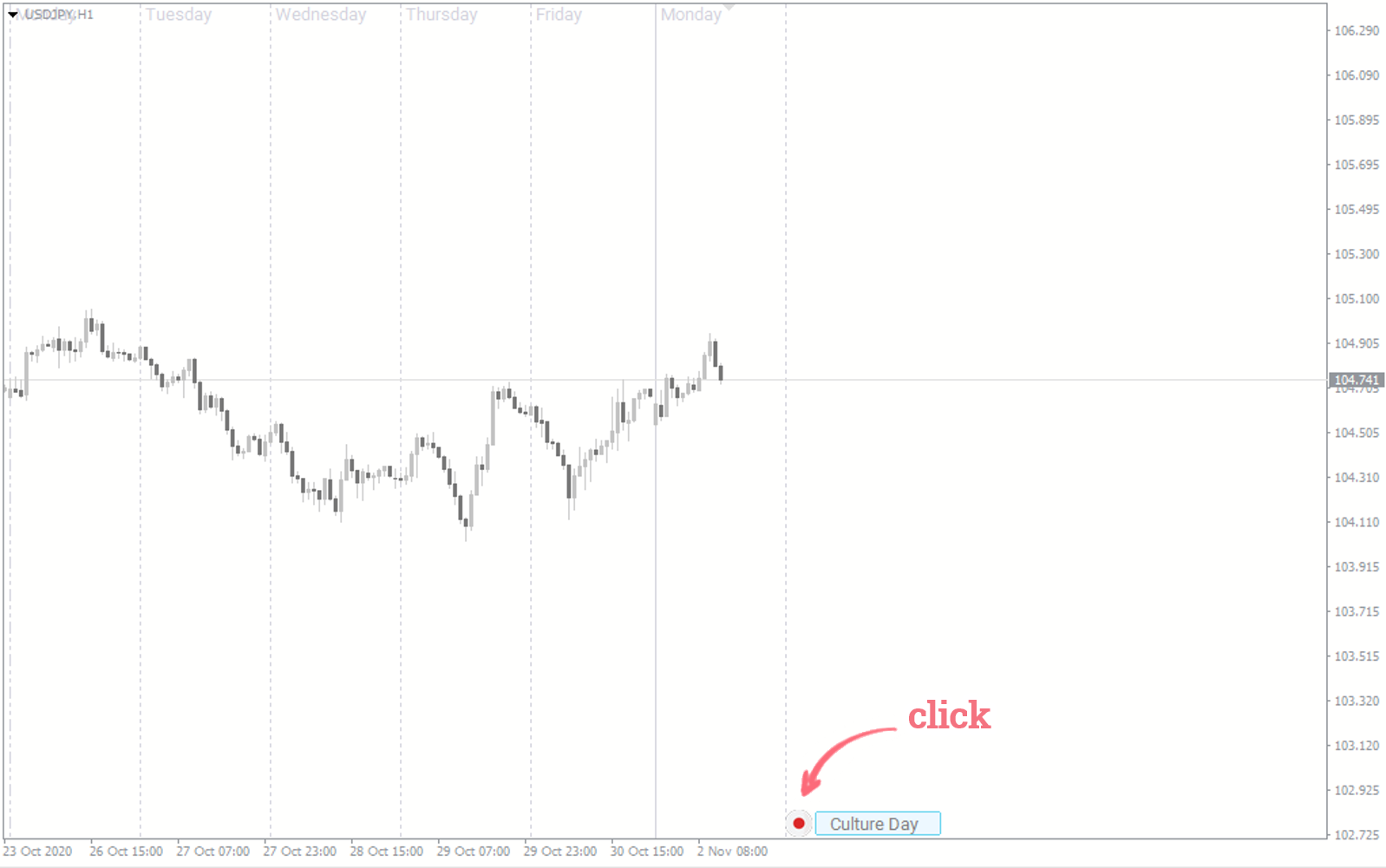 By clicking on it, you can see exactly which holiday is being celebrated.
Features
The indicator displays daily, weekly, and monthly zones, which allows you to use it on different timeframes.
However, in order to preserve brevity, only weekly and monthly zones will be displayed when switching to D1 timeframe. On timeframes W1 and higher, the indicator will not be displayed, because the distance between the lines is going to be too small.
You can also customize the display of holidays depending on the currency pair or disable their display entirely.
Settings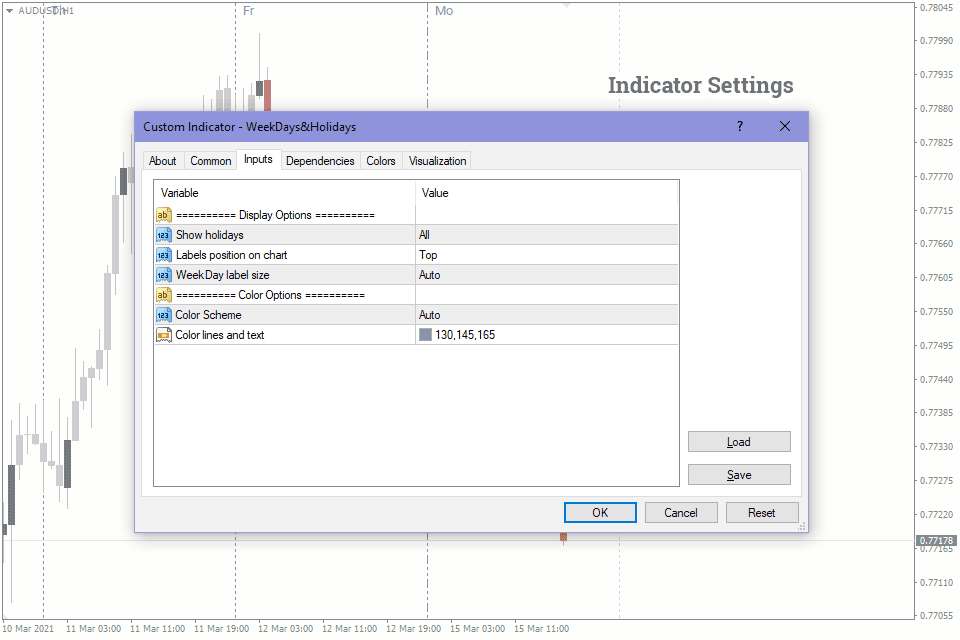 Show holidays displays the labels showing holidays (all holidays/only those related to this pair/don't display).
Labels position on chart displays the names of days of the week at the top/bottom of the chart.
WeekDay label size displays the names of days of the week only in short/automatically (it depends on the current timeframe and the chart scale).
Color Scheme is the setting for a color scheme (automatic/for a white background/for a black background).
Color Line and Text allows the user to customize the color of vertical lines and the names of days of the week.
How to add WeekDays&Holidays in MT4/MT5
Follow the instructions below to install the Indicator to your MT4 or MT5 terminal:
Download the ZIP-archive with WeekDays&Holidays indicator file by clicking the link at the top of the page;
Unzip the file into the MQL4/5 indicators folder of your terminal;
Restart the MT4/MT5 terminal;
Run the indicator by double clicking the indicator name in the MT4/5 Navigator;
Check the "Allow DLL imports" box and click "OK";
The indicator will be displayed on the chart;
Adjust the indicator's settings according to your needs: press CTRL+I, select the indicator from the list, and switch to the "Inputs" tab.
If you have any difficulties while installing the indicator, please view the detailed instruction.